RECIPE BY:
Matt Sinclair
SERVING SIZE:
2 – 4 people
INGREDIENTS:
METHOD:
On a hot griddle pan or fry pan, place ham slices on and cook until slightly charred on each side.
In another hot pan, place EVOO and crack an egg in to fry. Sprinkle the herbs onto the egg. Season with salt and pepper and cook until fried.
Warm up a wrap on a hot pan.
To assemble, on the base of the wrap, place rocket, comte cheese, ham slice and top with the green egg.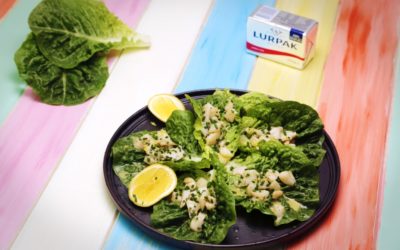 RECIPE BY:Courtney Roulston and Scott McRaeSERVING SIZE:2 - 4 people INGREDIENTS:12 fresh scallops in the half shell80g Lurpak butter, room temperature2 teaspoon lemon zest, finely grated1 large clove garlic, grated2 tablespoons fresh dill, finely chopped1 green...