RECIPE BY:
Michael Weldon
TIME:
Prep Time: 15min
Cook TIme: 15min
INGREDIENTS :
½ cup of ZoOSh Caesar Dressing
3 strips of Bacon
2 baby Cos Lettuce cut into ⅛'s
1 Red Onion, sliced into discs
1 Zucchini, cut into long strips
2 tbsp Cobram Estate Extra Virgin Olive Oil
1 bunch Parsley, leaves picked
¼ cup of grated Parmesan and extra peeled to garnish
1 baguette, sliced into 1 cm pieces
8 Anchovy fillets, finely sliced
METHOD :
On a griddle plan, char grill the bacon and onion until nice and crispy. Once cooked remove and allow to rest and add bread to grill. In a bowl drizzle olive oil over zucchini and char grill on the pan after the bread is finished.
Clean the pan before adding the lettuce to char grill. Once grilled serve on platter, slice bacon strips into matchsticks and dress the platter. Chargrill parsley and remove once grilled.
In a small bowl, whisk ¼ cup Parmesan, Zoosh dressing and anchovies.
In a large bowl, combine bacon, zucchini, onion and bread in a bowl and toss through with dressing (reserving a small amount for the top). Serve on top of the lettuce and dress with parsley, freshly shaved parmesan and leftover dressing.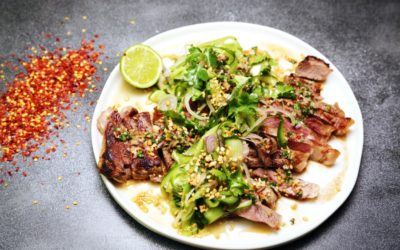 RECIPE BY: Courtney Roulston SERVING SIZE: 2 - 4 people INGREDIENTS: 2 x 230g Coles Finest Sirloin steaks 1 tablespoon Cobram Estate EVOO 2 Lebanese cucumbers, peeled into noodles 2 red shallots (French ), finely sliced ½ cup loosely packed coriander leaves ½ cup...