RECIPE BY:
Matt Sinclair
SERVING SIZE:
2 – 4 people
INGREDIENTS:
2 eggplants, thinly sliced
2 zucchinis, thinly sliced lengthways
1/4 cup Cobram Estate Robust EVOO
1/3 cup Coles tahini
1/3 cup Jalna Greek yoghurt
2 tsp honey
1 clove garlic, grated
1 Tbsp ground cumin
Zest and juice of 1 lemon
1 tsp Coles sumac
1/4 cup pinenuts, toasted
1/4 cup picked coriander leaves
METHOD:
Lay out eggplant and zucchini slices onto a clean towel. Sprinkle with salt and allow and set aside for 5-10 minutes to draw moisture out. Pat dry with paper towel.
In a bowl, combine the tahini, yoghurt, honey, garlic, cumin and zest and lemon juice and whisk together until smooth. Adjust seasoning if required.
Heat a BBQ grill or heavy based pan on a medium-high heat. Drizzle the eggplant and zucchini with olive oil and cook for 1-2 minutes on each side until golden. Lay out onto a serving platter and season with a sprinkling of salt. Drizzle over the tahini-yoghurt dressing, sprinkling of sumac, pinenuts and coriander leaves. Serve warm as a side.
Our friends at Wine Selectors recommend pairing this dish with a Rose or Pinot Grigio.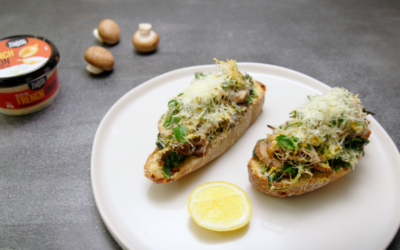 RECIPE BY: Matt Sinclair SERVING SIZE: 2 - 4 people INGREDIENTS: 3 Tbsp Cobram Estate Classic Extra Virgin Olive Oil 1 brown onion, finely sliced 150gm Swiss brown mushrooms Salt and pepper 4 spring fresh thyme 100gm baby spinach 60gm Zoosh French Onion Dip 1 Tbsp...