RECIPE BY:
Michael Weldon
SERVING SIZE:
2 – 4 people
INGREDIENTS:
1 lamb backstrap
150g peas
100g feta
1 bunch of mint
1pkt Ainsley Harriott Moroccan Medley Cous Cous
1 lemon
50g Jalna Greek Yoghurt
2tbs Cobram Estate Classic Extra Virgin Olive Oil, plus extra for seasoning
160mls hot water
Pinch of sea salt
METHOD:
In a large mixing bowl, combine cous cous, peas, olive oil, and hot water. Set aside.
Season lamb with salt and a drizzle of olive oil. Grill in a hot griddle pan over a hot stove. Once brown on all sides, take lamb out of pan and let it rest on a plate.
While lamb is resting, give cous cous and peas a stir. Cous cous should have absorbed all the water and rehydrated. Dice up feta and pull off mint leaves. Add both to bowl and combine.
To dress cous cous salad, add another drizzle of olive oil and lemon juice to taste. Mix well.
To serve, pour salad onto serving dish. Thinly slice up lamb and scatter evenly across salad. Sprinkle with a pinch of salt, to taste.
Finish by drizzling with yoghurt, crumbling extra feta over the top and garnishing with extra mint leaves.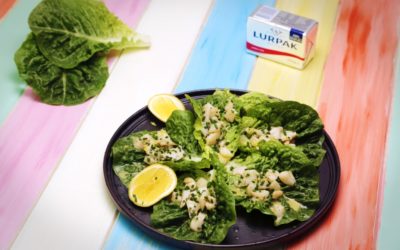 RECIPE BY:Courtney Roulston and Scott McRaeSERVING SIZE:2 - 4 people INGREDIENTS:12 fresh scallops in the half shell80g Lurpak butter, room temperature2 teaspoon lemon zest, finely grated1 large clove garlic, grated2 tablespoons fresh dill, finely chopped1 green...