Grilled Skirt Steak with Salsa Verde

RECIPE BY:
Matt Sinclair
SERVING SIZE:
4 people
INGREDIENTS:
800gm Coles Skirt Steak
2 Tbsp. Cobram Estate Extra Virgin Olive Oil
Salt and Pepper
SALSA VERDE:
150ml Cobram Estate Classic Extra Virgin Olive Oil
1 clove garlic, finely grated
1 Tbsp. baby capers, drained and rinsed, roughly chopped
1 Tbsp. Dijon mustard
1/3 cup lemon juice
Zest of 1 lemon, finely grated
Pinch of pepper
1 cup, packed parsley leaves
½ cup, packed mint leaves
½ cup, packed basil leaves
METHOD:
Heat a BBQ grill on high. Bring steak up to room temperature and coat in olive oil. Season generously with salt and freshly cracked black pepper. Place on the BBQ and grill, turning once only for 4-5 minutes on each side for medium-rare. Rest for a minimum of 5 minutes. ** Cooking times may vary depending on the thickness of the steak.
Meanwhile, in a food processor add the garlic, capers, mustard, lemon juice, zest, herbs and oil and blitz to combine. Taste and adjust seasoning if required.
Slice steak into 1 cm strips, against the grain. Place onto a serving plate and spoon over the salsa verde and a squeeze of fresh lemon.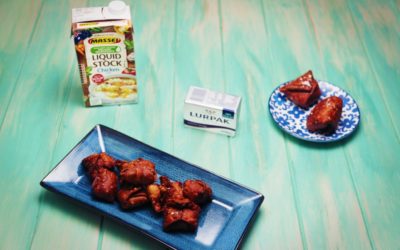 RECIPE BY:Kylie MillarSERVING SIZE:2 - 4 peopleINGREDIENTS:300g flour75g Lurpak Slightly Salted butter75g grated cheddar cheese50g vegemiteColes cling wrapMETHOD:Place all ingredients, except the water, into a food processor and blitz until it resembles fine...