RECIPE BY:
Matt Sinclair
SERVING SIZE:
2 – 4 people
INGREDIENTS:
400gm lamb steak
4 Tbsp Cobram Estate Extra Virgin Olive Oil
2 cloves garlic
1 tsp dried or fresh oregano, finely chopped
1 tsp dried or fresh parsley, finely chopped
Zest and juice of 1 lemon
1/2 cup Greek yoghurt
1 Lebanese cucumber, deseeded and grated
4 Simsons Pantry Extra Large White Wraps
2 tomatoes, diced
1 baby cos, roughly chopped
100gm Greek fetta, crumbled
METHOD :
In a mortar and pestle, crush the garlic, one tablespoon of olive oil, salt, and oregano. Add to a bowl with the lamb, lemon zest and juice of half the lemon. Roughly chop fresh parsley and add to the bowl. Ensure the lamb is evenly coated. For extra flavour, marinade for 20-30 minutes.
Heat BBQ or griddle pan on a medium-high heat and add one tablespoon of olive oil. Remove lamb from marinade and place in the pan for 2 minutes on each side for medium rare, or 3 minutes each side for medium-well. Remove from heat and allow to rest for a few minutes.
To make the cucumber yoghurt, cut cumber in half, long ways and remove the seeds from centre. Dice the cucumber and add to a small bowl with some lemon zest, to taste. Add the yoghurt and combine. Season to taste with lemon juice, salt and olive oil.
Put a pan onto medium – high heat, with the remainder of the olive oil. Add two wraps to the pan, stacked on top of each other. Once the bottom wrap has become crispy, flip the pair over without separating.This ensures that one side of each wrap is crispy and the other remains soft but steamed. Once this is done, remove wraps from pan, separated with the crispy side of each facing down.
Finely slice the lamb. To assemble the gyros, top the middle of the wrap with lamb strips, tomato and lettuce, a dollop of cucumber yoghurt and crumbled fetta. Wrap it all up and enjoy!
Our friends at Wine Selectors recommend pairing this dish with a Tempranillo.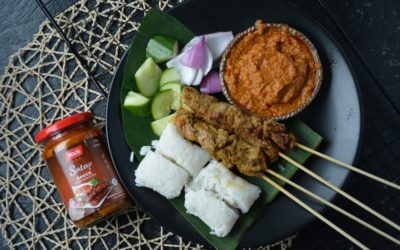 RECIPE BY: Karen Chan SERVING SIZE: 2 - 4 people INGREDIENTS: 6 tbsp Yeo's Satay sauce 1 lemon (zest only) 1 tsp ground turmeric ½ tsp ground cumin 1 tsp salt 1 tbs sugar 1 tbsp Yeo's Pure Sesame Oil 3 tbsp cooking oil 400g beef fillet (thinly sliced) 1 pack skewers...