RECIPE BY:
Matt Sinclair
SERVING SIZE:
4 people
INGREDIENTS :
1 whole free range chicken (the quality shows in a dish like this)
1 bunch shallots (scallions)
1/2 bunch coriander, thoroughly washed
A couple of knobs of ginger (it will be used in 3 parts of this recipe, so make sure there's lots)
1 head garlic (make sure the cloves aren't too small)
White pepper
Sesame oil
Chinese five spice powder
2 cups jasmine rice, rinsed thoroughly about 3 times to remove as much starch as possible.
Table salt
TO SERVE:
Kecap manis
Sambal olek
1 Lebanese cucmumber, sliced
2 vine ripened tomatoes, sliced
METHOD :
In a colander, thoroughly scrub the chicken inside and out with a handful of salt (the secret to smooth Hainanese chicken skin is exfoliation!). Set the chicken aside to drain while you prepare the aromats. Take a thumb sized knob of ginger, bash it lightly with the base of a knife handle, just to break it slightly. Do the same with 2-3 cloves garlic. Place the ginger and garlic inside the chicken cavity, along with 2 stalks of spring onion. Cut off and reserve a small piece of chicken skin from the neck to cook the rice with. Rub the outside of the chicken with a teaspoon of sesame oil and a good seasoning of salt and white pepper and place in a deep pot. Cover with water and bring to the boil. Boil for 30-40 minutes and then turn the heat off and allow the chicken to sit in the water for a further 30, then remove, refresh in cold water and set aside to cool to almost room temperature, then rub with a few more drops of sesame oil and a sprinkle of salt. Bring the cooking water to the boil, add a generous amount of salt and reduce by one third – this consomme can be served with the dish, or cooled and used as an Asian flavoured chicken stock for soups (stores well in the freezer).
Meanwhile, in a frypan on a medium-high heat, place the reserved piece of chicken skin and allow to render the fat out. Smash a thumb sized piece of ginger and 2 cloves of garlic, add the to the pan along with 1 shallot stalk. Stir fry for 1 minute or until aromatic and then add in the thoroughly rinsed rice. Stir fry the raw rice to coat it in the fat and the aromats. In a rice cooker, transfer the rice and aromats. Add enough water from the cooking chicken to reach the first knuckle of your finger, from the top of the rice. Place the lid on and set to cook.
Meanwhile, prepare the shallot and garlic sauce: Peel and coarsely grate 2 thumb sized pieces of garlic, and finely chop about 3-4 cloves garlic. Reserve about 2-3 stalks of shallots, then top and tail the rest and then finely slice into rounds. Reserve a few coriander leaves for garnish, trim off the roots, then finely chop the coriander stalks and leaves. In a saucepan on a low-medium heat, add 2-3 tablespoons grapeseed (or any neutral oil like canola or sunflower) and about half a dozen drops of sesame oil. Add the ginger, garlic, chopped shallots and chopped coriander and stir regularly until the greens soften, but do not take on any colour. Season generously with salt, a good pinch of five spice powder and white pepper, to taste. Stores well in the fridge in a sterilised jar for up to a week and is great on sandwiches or stir fries.
Once the chicken has cooled, carefully chop it up, trying to keep the skin on each part as intact as possible (half the pleasure of this dish is the skin). Serve the chicken with the rice, shallot and ginger sauce, a drizzle of kecap manis and sambal olek on the side, as well as the cucumber and tomato slices.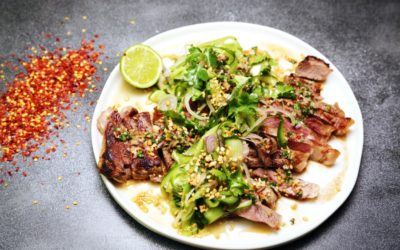 RECIPE BY: Courtney Roulston SERVING SIZE: 2 - 4 people INGREDIENTS: 2 x 230g Coles Finest Sirloin steaks 1 tablespoon Cobram Estate EVOO 2 Lebanese cucumbers, peeled into noodles 2 red shallots (French ), finely sliced ½ cup loosely packed coriander leaves ½ cup...