Ham, Cheese and Onion Roll-Up

RECIPE BY:
Michael Weldon
INGREDIENTS :
1x 4 packet Simson's Pantry 4 seed wrap
100g Swiss cheese
100g mozzarella cheese
100g parmesan cheese
200g Champagne Ham
1 red onion, finely diced
½ cup red wine vinegar
¼ cup caster sugar
¼ water
1tbps mustard
METHOD :
Heat vinegar and sugar in a small pot until boiling. In a small bowl rub onion and salt together to soften onion. Pour vinegar over onion bowl and set aside to pickle for at least 10 minutes.
Start building your wraps by adding a layer of your cheeses over the entire base of the wrap. Add your pickle and ham on top and roll up into a wrap. In a sandwich press or pan cook the wraps until crispy on the outside and the cheese is melted on the inside. Garnish with leftver pickled onion.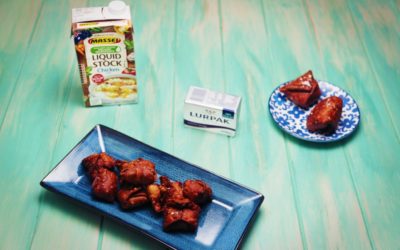 RECIPE BY:Kylie MillarSERVING SIZE:2 - 4 peopleINGREDIENTS:300g flour75g Lurpak Slightly Salted butter75g grated cheddar cheese50g vegemiteColes cling wrapMETHOD:Place all ingredients, except the water, into a food processor and blitz until it resembles fine...