RECIPE BY:
Michael Weldon
TIME:
Prep time: 10-15 mins
Cook time: 15-20 mins
INGREDIENTS:
MELTED BUTTER:
150g Ballantyne Rolled Salted Butter
3-4 thyme sprigs
3 garlic cloves, chopped
FILLING 1: BRIE:
FILLING 2: BLUE CHEESE DIP:
100g Coles Danish Blue Cheese
150g Coles Crèam Cheese
1 red onion, sliced thinly and caramelised
½ tbs of red wine vinegar
50g pine nuts
½ bunch of parsley, chopped
METHOD:
PREPARING THE BREAD:
Place brie on top of sourdough loaf and trace around it with a knife, cutting a circle out of the bread and remove enough bread in the centre to fit the brie in. Diagonally cut across the bread, about halfway down around the circle and two thirds through the rest so the base is still holding together. Turn bread around and cut in the opposite direction.
In a small saucepan, melt butter over a medium heat and add chopped garlic and small thyme sprigs. Allow the butter to simmer and take in the flavour. Generously brush both loaves with melted butter.
Place brie into 1 loaf and place both loaves into the oven at 180C for 10 minutes.
BLUE CHEESE DIP:
With a stand mixer, combine the blue cheese, caramelised onion and cream cheese on a medium speed.  Add parsley, toasted pine nuts and mix.
Take loaves out of the oven and fill the second loaf with the blue cheese dip.  Place back into the oven for 3-5 minutes or until both fillings have melted and the cheese is oozing out. Enjoy!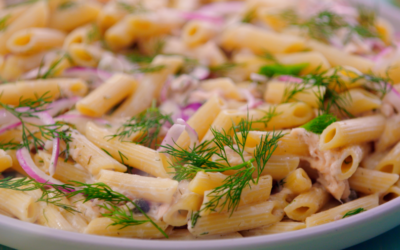 RECIPE BY: Michael Weldon SERVING SIZE: 2 - 4 people INGREDIENTS: 1 x Coles Penne Rigate 500g 1 x Coles Hot Smoked Salmon fillet 1 x ZoOSh Smoked Salmon dip ½ x Red onion, thinly sliced ½ jar Coles baby Capers ½ Dill bunch, roughly chopped (save a few sprigs for...