Hot Dogs with Sauerkraut and Swiss cheese

RECIPE BY:
Michael Weldon
SERVING SIZE:
6 people
TIME:
Prep time 10 mins
Prep time 10 mins
Cook time 10-15 mins
INGREDIENTS:
1 pack Coles Graze Beef Sausages with Oregano & Parsley
1 pack Coles Hot Dog Rolls
6 pieces Swiss cheese
1 brown onion, sliced thinly
2 rashers of bacon, sliced thinly
100g Sauerkraut
3 drops apple cider vinegar
2 sprigs of thyme
1tbs Ballantynes Rolled Unsalted Butter
1 Bottle Coles Mild American mustard
2 tbsp Cobram Estate Classic Extra Virgin Olive Oil
*1 pack Little Lucifer Ready To Use  Smoking Wood Chips – Hickory & Mesquite Flavour
SAUSAGES:
To prepare the barbecue, pierce the Little Lucifer pack with a fork and place straight onto the charcoal.
Place sausages on barbecue grill plate, directly on top of the pack, and place lid to trap the smoking flavour. Leave for 5 minutes and flip. Cook for another 4-5 minutes.
TOPPING:
Slice bacon and place on a dry pan at medium-high heat. Add oil and throw in the onions with a pinch of salt – stir until caramelised. Add sauerkraut, apple cider vinegar, thyme and butter. Allow butter to melt.
Create your hot dog:
Toast your hot dog bun on the barbecue and when ready, fill bun with topping. Add the sausage, then layer with a slice of cheese and more topping. Finish with mustard.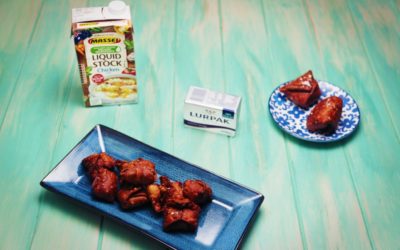 RECIPE BY:Kylie MillarSERVING SIZE:2 - 4 peopleINGREDIENTS:300g flour75g Lurpak Slightly Salted butter75g grated cheddar cheese50g vegemiteColes cling wrapMETHOD:Place all ingredients, except the water, into a food processor and blitz until it resembles fine...