RECIPE BY:
Courtney Roulston
SERVING SIZE:
2 – 4 people
INGREDIENTS:
2 Simsons Pantry black rice wraps
2 tablespoons Cobram Estate Classic Extra Virgin Olive Oil
½ red onion, thinly sliced
1 teaspoon fresh ginger, finely chopped
½ teaspoon mustard seeds
1 green chilli, sliced,
¼ bunch coriander, stems and leaves separated
½ teaspoon whole cumin seeds
pinch ground turmeric
6 eggs, lightly beaten
¼ cup Coles coconut cream
2 tablespoons shredded coconut
1 lemon to serve
METHOD :
Heat a large non-stick frying pan over a medium heat. Brush the wraps with 1 tablespoon of the oil and fry for 1 minute each side, or until slightly crisp and puffy. Set aside and keep warm.
Place the remaining oil back into the same frying pan on a medium heat. Cook the onion with a pinch of salt for 3-4 minutes, or until slightly golden. Add in the ginger, mustard seeds, half the chilli, coriander stems and cumin seeds. Cook off the spices for 2 minutes to release their fragrance.
Beat the turmeric, eggs, coconut cream and a pinch of sea salt in a bowl and pour in the pan with the spices. Cook on a gentle heat for 3-4 minutes, stirring occasionally with a spatula until the eggs are just set.
Place the eggs onto serving plates with the warm wraps and top with the remaining chilli, coriander leaves, shredded coconut and a wedge of lemon.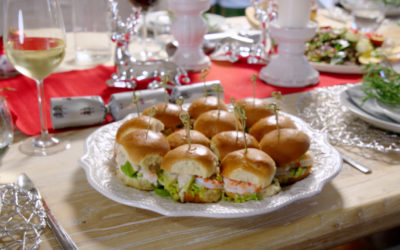 View Khanh's special Christmas recipe at The Cook's Christmas Pantry:  Related...