RECIPE BY:
Courtney Roulston
SERVING SIZE:
4 people (as a sharing snack)

INGREDIENTS:
500gm Coles Chicken Thighs, cut into 2cm squares
2 tbsp Lee Kum Kee Premium Soy Sauce
1 tbsp mirin
1 tbsp cooking sake
1 tbsp fresh ginger, grated
1 clove garlic, grated
1 cup cornflour
½ plain flour
Cobram Estate Extra Classic Virgin Olive Oil for frying
DRESSING:
½ cup ZoOSh Free Range Egg Mayonnaise
2 tsp wasabi paste
1 tbsp lemon juice
1 tsp lemon zest
½ bunch chives, finely chopped to serve
METHOD:
Place the chicken pieces in a large bowl along with the soy sauce, mirin, sake, ginger and garlic. Stir well and leave to marinade for 30 minutes in the fridge.
Meanwhile whisk all the dressing ingredients together in a bowl until smooth.
Place the flours into a large bowl and mix well. Drain the chicken from the marinade and in batches, dust with the flour to coat the outside of each piece of chicken.
Heat the oil to 170 degrees and fry the chicken in batches for 4-5 minutes, or until golden and cooked through. Allow the oil to heat back up in between cooking batches. Drain the chicken on kitchen towel to remove excess oil.
Place the chicken on a platter and serve with the wasabi mayonnaise. Garnish with chopped chives and a sprinkle of sea salt.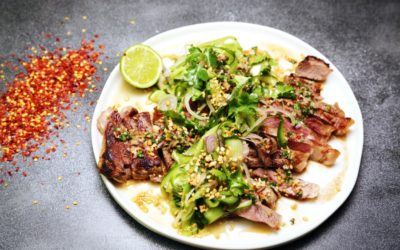 RECIPE BY: Courtney Roulston SERVING SIZE: 2 - 4 people INGREDIENTS: 2 x 230g Coles Finest Sirloin steaks 1 tablespoon Cobram Estate EVOO 2 Lebanese cucumbers, peeled into noodles 2 red shallots (French ), finely sliced ½ cup loosely packed coriander leaves ½ cup...