Japchae with Black Bean Beef

Japchae: Korean glass noodle stir fry
RECIPE BY:
Matt Sinclair
SERVING SIZE:
4 people
INGREDIENTS:
Beef:
250g Cole Beef Porterhouse steak, fat removed and sliced into strips
2 tbsp Lee Kum Kee Black Bean Garlic Sauce
1 tbsp Lee Kum Kee Pure Sesame Oil
Japchae:
200g of glass noodles
2 cloves of garlic, minced
1 brown onion, finely diced
1 red capsicum, sliced into strips
2 eggs (beaten)
1 carrot, julienned
4 shiitake mushrooms, thinly sliced
1 cup of spinach
2 tbsp Lee Kum Kee Salt Reduced Soy Sauce
1 tbsp of sesame seeds
Salt
Cracked Black pepper
METHOD:
Mix the soy, pepper and sesame oil together in a mixing bowl. Add the steak in and marinade for 5 – 10 mins. Once it's marinated, remove the beef and slice into thin strips.
Whilst the steak is marinating, cook the glass noodles in a pot of boiling water. This should take approximately 3-4 mins until the noodles are translucent.
Heat 2 tbsp of oil in a wok. Add in the eggs and a pinch of salt and pepper and cook through. Flip over and cook like you would an omelette. Remove from wok and place on the chopping board.
Using the same wok, heat 1 tbsp of oil. Add in the steak and cook for 2 mins. Remove and set aside.
Again using the same wok, add in 2 tbsp of oil. Add in the minced garlic and diced onions and
continue to saute. Next add in the capsicum and carrots and cook for 3 mins or until tender.
Now, add in the mushrooms and cooked noodles and pour in the soy sauce. Then, add in the
spinach until it wilts and drizzle with some sesame oil.
Return the cooked beef to the wok and heat through for a minute or so.
Turn the heat off. Roll the omelette up and slice into thin long strips.
To serve, place the jap chae onto a serving dish, top with the omelette and sprinkle over some sesame seeds.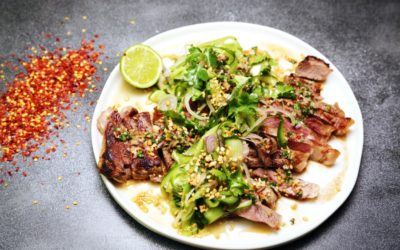 RECIPE BY: Courtney Roulston SERVING SIZE: 2 - 4 people INGREDIENTS: 2 x 230g Coles Finest Sirloin steaks 1 tablespoon Cobram Estate EVOO 2 Lebanese cucumbers, peeled into noodles 2 red shallots (French ), finely sliced ½ cup loosely packed coriander leaves ½ cup...