RECIPE BY:
Matt Sinclair
SERVING SIZE:
2 – 4 people
INGREDIENTS:
3 Tbsp cooking sake
2 Tbsp Coles soy sauce
1 inch piece ginger, peeled, finely grated
1 clove garlic, finely grated
4 chicken thighs, diced into 2 inch thick pieces
1/4 cup potato or corn starch**
1/4 cup Coles plain flour
Salt
Cobram Estate EVOO Oil for frying
Shichimi togarashi to season
SESAME LIME MAYONNAISE:
1/3 cup ZoOSh mayonnaise
1/2 tsp sesame oil
Lime
METHOD:
Combine the sake, soy, ginger and garlic in a bowl and whisk to combine. Place in a zip lock bag or non-reactive container, add the chicken and toss to coat. Refrigerate and allow to marinate for a minimum of 30 minutes, ideally overnight. Remove from refrigerator 10 minutes before cooking.
Prepare the mayonnaise by combining the kewpie mayonnaise, sesame oil and a squeeze of lemon together in a small bowl and season to taste.
When ready to cook, heat fryer to 170C. Combine the starch and flour in a tray and season with salt. Remove chicken from the marinade and place into the flour mixture, gently toss to coat. Fry chicken in batches to avoid over-crowding, 4-5 pieces each time. Fry chicken for 4-5 minutes until crunchy and golden. Remove onto paper towel and season immediately with salt and sprinkling of shichimi togorashi over the top.
Serve hot with sesame lime mayonnaise on the side.
**TIP – Potato starch will give a crispier result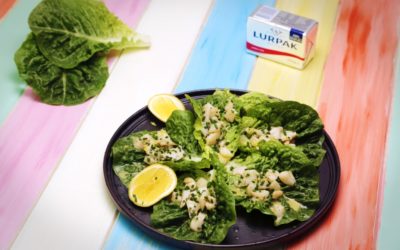 RECIPE BY:Courtney Roulston and Scott McRaeSERVING SIZE:2 - 4 people INGREDIENTS:12 fresh scallops in the half shell80g Lurpak butter, room temperature2 teaspoon lemon zest, finely grated1 large clove garlic, grated2 tablespoons fresh dill, finely chopped1 green...