RECIPE BY:
Matt Sinclair
KINGFISH:
1 fillet of fresh kingfish
1 spring onion, finely sliced
1 Tbsp toasted sesame seeds
PONZU DRESSING:
2 tbsp. Lee Kum Kee Premium Soy Sauce
1 tsp. Lee Kum Kee Pure Sesame Oil
1 tsp. rice wine vinegar
1 tsp. mirin
1 mandarin, zest and juice
1 lemon, zest and juice
*Adjust to taste
METHOD:
DRESSING
Place all ingredient for dressing into a mortar and pestle and mix to combine tasting as you go to check balance. 
KINGFISH
On a clean board and with a sharp knife slice kingfish into very thin slices. Arrange fish onto a serving platter. Pour over dressing and top with with spring onions and sesame seeds. Enjoy!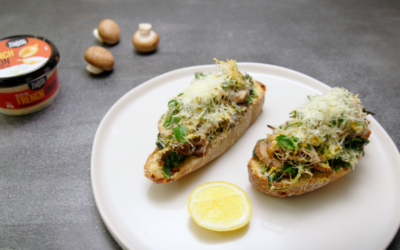 RECIPE BY: Matt Sinclair SERVING SIZE: 2 - 4 people INGREDIENTS: 3 Tbsp Cobram Estate Classic Extra Virgin Olive Oil 1 brown onion, finely sliced 150gm Swiss brown mushrooms Salt and pepper 4 spring fresh thyme 100gm baby spinach 60gm Zoosh French Onion Dip 1 Tbsp...