RECIPE BY:
Heather Jeong
SERVING SIZE:
2 – 4 people
INGREDIENTS:

300g thinly sliced beef (scotch fillet or sirloin)
100g Ottogi Bulgogi Sauce & Marinade
1 tbsp canola oil
4 eggs
4 cups cooked rice (medium short grain)
4 tbsp Yeo's Pure Sesame Oil

SALAD:

1 cup lettuce (julienned)
1 Lebanese cucumber (julienned)
½ carrots (julienned)

GOCHUJANG SAUCE (KOREAN CHILLI SAUCE): METHOD:

Marinate beef with Ottogi Bulgogi Sauce & Marinade for at least 30 min.
Mix the gochujang sauce ingredients together in a small dish and set aside.
In a heated frying pan add 1 tbsp canola oil. Fry eggs over medium heat in sunny side up style until the egg whites are cooked. Set aside fried eggs.
In the same pan, cook marinated meat (bulgogi) over medium heat until the meat is cooked. This should take about 5 minutes. Set aside cooked meat (bulgogi).
Place 1 cup of rice in each bowl and drizzle with ½ tbsp sesame oil. Top assorted salad ingredients and cooked bulgogi on top of the rice. Add fried egg on top. Drizzle ½ tbsp sesame oil over the ingredients. Repeat with the other bowls. Serve bibimbap with gochujang sauce (Korean chilli sauce).
Mix gochujang sauce well into the rice, meat and salad ingredients prior to eating.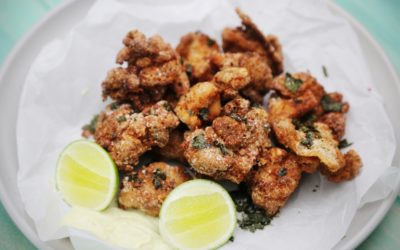 RECIPE BY: Sam Goodwin SERVING SIZE: 2 - 4 people INGREDIENTS: 500g Chicken thigh fillets, skin on 1⁄4 cup light soy sauce 2 tbsp sake 3cm ginger, minced 1 garlic clove, minced 1 tsp caster sugar 1 cup cornflour Sea salt flakes 2L Cobram Estate EVOO oil, for deep...