RECIPE BY:
Courtney Roulston
SERVING SIZE:
2 – 4 people
INGREDIENTS:
4 Simsons Pantry white wraps
2 tablespoons olive oil
250g Coles lamb mince
2 cloves garlic, crushed
1 teaspoon ground cumin
1/2 teaspoon ground cinnamon
1 tablespoon tomato paste
1 teaspoon honey
Sea salt and pepper to season
2 cups baby spinach leaves
2 green spring onions, finely chopped
1/2 cup flat leaf parsley, chopped
150g feta cheese, crumbled
1 lemon to serve
1/2 cup Jalna Greek yoghurt to serve
METHOD :
Heat half the oil in a large non-stick frying pan over a medium/high heat. Cook the lamb, breaking up with the back of a spoon for 5-6 minutes, or until browned. Add in the garlic, cumin, cinnamon and season with sea salt and pepper. Continue to cook for 2-3 minutes to cook off the spices before adding in the tomato paste, honey and silverbeet. Cook, stirring for 2- 3 minutes, or until the silver beet has wilted. Remove form the heat and sprinkle over the green onions, parsley and feta cheese.
Let the lamb mixture to cool slightly before spooning onto one side of the wraps. Fold the wraps over and drizzle the outside with the remaining oil. Cook the gozleme, in batches, in a non stick frying pan over a medium heat for 2-3 minutes each side, or until crisp on the outside.
Slice into wedges and serve with the Greek yoghurt and lemon wedges.
Our friends at Wine Selectors suggest pairing this dish with either a Tempranillo or a Cabernet Merlot.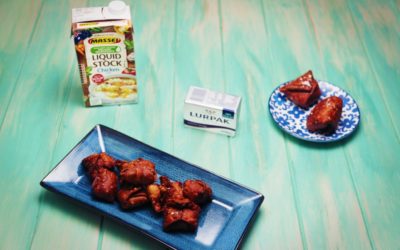 RECIPE BY:Kylie MillarSERVING SIZE:2 - 4 peopleINGREDIENTS:300g flour75g Lurpak Slightly Salted butter75g grated cheddar cheese50g vegemiteColes cling wrapMETHOD:Place all ingredients, except the water, into a food processor and blitz until it resembles fine...