RECIPE BY:
Matt Sinclair
SERVING SIZE:
4 people
INGREDIENTS:
600gm Coles Slow Cooked Lamb Shoulder, diced into 1-inch pieces
1/3 cup Cobram Estate Classic Extra Virgin Olive Oil
3 cloves garlic, grated
Zest of 1 lemon
1 Tbsp. finely chopped fresh rosemary
½ Tbsp. dried oregano
½ Tbsp. dried mint
½ Tbsp. fennel seeds
40ml fresh lemon juice
Salt and Pepper
SESAME YOGHURT:
1 cup Greek yoghurt
3 Tbsp. unhulled tahini paste
40ml Cobram Extra Virgin Olive Oil
40 ml fresh lemon juice
1 Tbsp. toasted sesame seeds
Pinch of salt
TABOULEH:
2 bunches fresh parsley, picked and finely chopped
1 bunch fresh mint, picked and finely chopped
2 green shallots, finely sliced
200gm cherry tomatoes, diced
1 clove garlic, grated
40ml cup Cobram Estate Classic Extra Virgin Olive Oil
Bamboo skewers
METHOD:
In a non-reactive bowl or container add the diced lamb, olive oil, garlic, lemon zest, herbs, fennel seeds and a generous pinch of sea salt and cracked black pepper and mix well to combine. Cover and allow to marinade in the refrigerator for a minimum of 1 hour, ideally overnight. Remove lamb from the refrigerator at least 30 minutes before cooking to bring it up to temperature. Place skewers to soak in water for 10 minutes to prevent burning. Thread lamb onto skewers and set aside until required.
In a large bowl add the chopped parsley, mint, shallots and tomatoes and toss gently to combine. In a small bowl add the garlic, olive oil, lemon juice and a pinch of sea salt and cracked black pepper and whisk together with a fork. Taste and adjust dressing if necessary. Dress the tabouleh just before serving.
In a bowl add all the yoghurt ingredients and whisk to combine. Taste and adjust seasoning if required.
Preheat a BBQ grill plate on high. Drizzle eggplant discs with olive oil and place on the grill. Season with salt and pepper and BBQ for 2-3 minutes on each side, or until soft and slightly charred.
Place lamb skewers on the BBQ grill and cook for approximately 2-3 minutes on each side until charred and cooked to medium-medium rare, approximately 7-8 minutes. Remove from grill and allow to rest for 5 minutes before serving.
Brush pita bread with a small amount of olive oil and place on the BBQ for 1-2 minutes on each side.
To assemble, spread sesame yoghurt over the charred pita bread, place eggplant on top followed by the lamb pieces and dressed tabouleh. Roll up into a wrap and enjoy!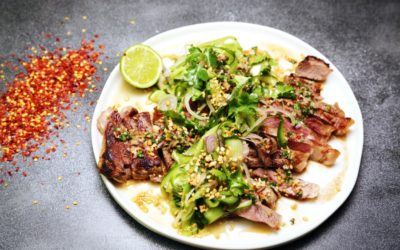 RECIPE BY: Courtney Roulston SERVING SIZE: 2 - 4 people INGREDIENTS: 2 x 230g Coles Finest Sirloin steaks 1 tablespoon Cobram Estate EVOO 2 Lebanese cucumbers, peeled into noodles 2 red shallots (French ), finely sliced ½ cup loosely packed coriander leaves ½ cup...