RECIPE BY:
Michael Weldon
SERVING SIZE:
4 people
INGREDIENTS :
1 kg Coles Lamb Loin Chops
1 brown onion, chopped
3 garlic cloves, sliced
2 bay leaves
2 tbs cumin seeds
1tbs smoked paprika
1 green pepper, diced
2 cans Ardmona crushed tomatoes
250mls Massel Salt Reduced Liquid Chicken Stock
1 can chickpeas
1 bunch of parsley, sliced thinly
Sea Salt
Cobram Estate Classic Extra Virgin Olive Oil
METHOD :
Season the lamb chops with a good pinch of salt and a drizzle of olive oil. Place them onto your heated pan and cook on a low-medium heat until lightly brown. Flip and repeat on the other side, about 1-2 mins on each side. Set aside.
Using the excess lamb fat in the pan, add your onions with a pinch of salt and soften. Add more olive oil if necessary.  Next, add cumin, paprika, capsicum and bay leaves and combine. Once you can smell the smoked paprika in the air,, you can add the liquids – diced tomatoes and chicken stock.
Carefully place the lamb chops back in the pan and braise for about 30 minutes on a low heat until the liquid has thickened up and the meat is nicely pulling apart. Add chickpeas and allow to warm through for 2 minutes.
Top with some parsley and serve with some bread, rice or enjoy on its own!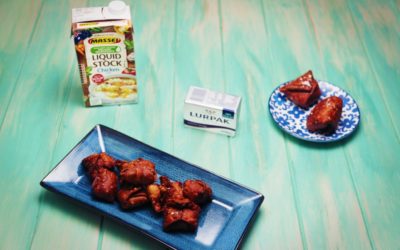 RECIPE BY:Kylie MillarSERVING SIZE:2 - 4 peopleINGREDIENTS:300g flour75g Lurpak Slightly Salted butter75g grated cheddar cheese50g vegemiteColes cling wrapMETHOD:Place all ingredients, except the water, into a food processor and blitz until it resembles fine...