RECIPE BY:
Matt Sinclair
SERVING SIZE:
12 people
INGREDIENTS:
¼ cup Cobram Estate Lemon Infused Olive Oil
2 cups buttermilk
2 eggs, separated
2 cups plain flour
2 tsp. baking powder
2 Tbsp. caster sugar
Zest of 1 lemon
Pinch of salt
Oil for cooking
STONE FRUIT:
¼ cup Cobram Estate Lemon Infused Olive Oil, plus extra
2 peaches, halved and pitted
2 nectarines, halved and quartered
2 Tbsp. caster sugar
1 tsp ground cinnamon
Salt
Mascarpone to garnish
METHOD:
In a mixing bowl add the buttermilk, olive oil and egg yolks and mix gently until combined.
In a separate bowl add all dry ingredients and mix to combine.
Add the wet mixture to the dry ingredients and fold through to combine, do not over mix.
In a clean bowl, add the egg whites and whisk to form soft peaks. Add ½ the eggs whites to the batter and gently fold through. Add remaining egg whites and fold through until combined.
Heat a pan on low-medium and melt butter until bubbling. Ladle approximately ¼ cup of mixture into the pan and spread evenly into a small round. Cook on one side until bubbles begin to form on the outer edges, approximately 3 minutes. Flip and cook for a further 3 minutes or until golden brown. Repeat with remaining batter.
Meanwhile, in a small bowl add the olive oil, sugar, cinnamon and a small pinch of salt and mix to combine. Add in the stone fruit and toss to coat. Place a griddle pan on medium-high heat and add a drizzle of olive oil. Place stone fruit cut side down and grill until golden brown and slightly softened. Reserve any excess marinade for garnishing.
To serve, stack 2-3 pancakes and top with grilled stone fruit, a dollop of mascarpone and drizzle with extra stone fruit marinade.
Dust with icing sugar.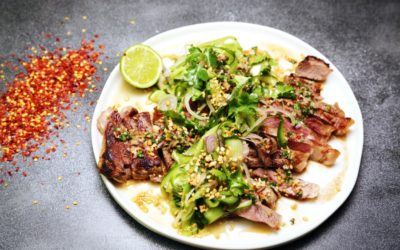 RECIPE BY: Courtney Roulston SERVING SIZE: 2 - 4 people INGREDIENTS: 2 x 230g Coles Finest Sirloin steaks 1 tablespoon Cobram Estate EVOO 2 Lebanese cucumbers, peeled into noodles 2 red shallots (French ), finely sliced ½ cup loosely packed coriander leaves ½ cup...