RECIPE BY:
Matt Sinclair
SERVING SIZE:
2 – 4 people
INGREDIENTS:
1 Litre Massel Salt-Reduced Chicken Stock
100gm shiitake mushrooms, sliced thickly
50gm shimeji or enoki mushrooms
300gm silken tofu, diced into 2cm cubes
3 Tbsp miso paste
3 spring onions, thinly sliced
2 nori sheets, roughly chopped
2 Tbsp toasted sesame seeds
Togarashi seasoning to garnish (optional)
METHOD :
Place the stock in a medium saucepan over a medium heat and bring to a boil.
Slice spring onions finely and put into a bowl of ice-cold water. Set aside.
Once pot boils, reduce to a simmer and add in miso paste, mirrin, shiitake mushrooms, and 1 sheet of nori torn finely. Allow to simmer for 2-3 minutes.
Place silken tofu, enoki mushrooms, spring onions and sesame seeds into bowls for serving. Ladel miso stock liquid over ingredients in bowls. Serve with extra torn nori and togarashi seasoning to garnish.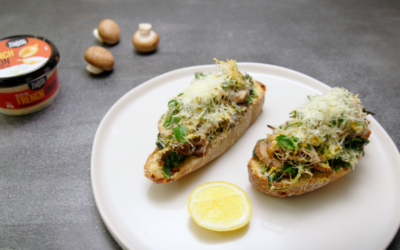 RECIPE BY: Matt Sinclair SERVING SIZE: 2 - 4 people INGREDIENTS: 3 Tbsp Cobram Estate Classic Extra Virgin Olive Oil 1 brown onion, finely sliced 150gm Swiss brown mushrooms Salt and pepper 4 spring fresh thyme 100gm baby spinach 60gm Zoosh French Onion Dip 1 Tbsp...