RECIPE BY:
Matt Sinclair
INGREDIENTS :
10g Dried Shiitake Mushrooms
1 thumb sized piece of ginger, chopped into chunks
1 tbsp Miso paste
2 cups of Oyster Mushrooms, seperated and peeled into chunks
2 tsp Lee Kum Kee Premium Soy Sauce
1 tsp Lee Kum Kee Sesame Oil
1 tsp Mirin
3 spring onions, sliced, white parts for soup, green parts for garnish
50g Silken Tofu, to garish
1 Nori sheet, to garnish
100g Soba noodles, cooked as per instructions
METHOD :
Fill a pot approximately ½ litre of water and bring to the boil. Add Mushrooms, miso and ginger and boil for 10-15 minutes. Add oyster mushrooms, spring onion, soy, sesame oil and mirin, cook down to slightly thicken.
In your serving bowl, place noodles and garnish with tofu and nori. Ladle your soup over the noodles and garnish with remaining spring onions.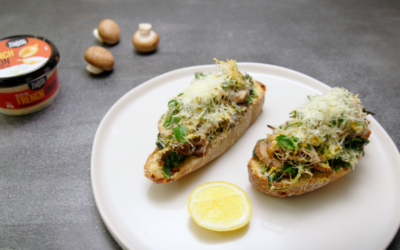 RECIPE BY: Matt Sinclair SERVING SIZE: 2 - 4 people INGREDIENTS: 3 Tbsp Cobram Estate Classic Extra Virgin Olive Oil 1 brown onion, finely sliced 150gm Swiss brown mushrooms Salt and pepper 4 spring fresh thyme 100gm baby spinach 60gm Zoosh French Onion Dip 1 Tbsp...