RECIPE BY:
Courtney Roulston and Matt Sinclair
SERVING SIZE:
2 – 4 people
INGREDIENTS:
1 x 20cm Italian style round cob loaf bread (Important to have this bread)
1 x 250g tub Philadelphia spreadable cream cheese
20 slices good quality salami
20 slices (350g) provolone cheese
20 slices good quality mortadella from the deli
15 slices good quality ham off the bone (Coles finest)
100g baby spinach leaves
OLIVE SALAD:
1 cup pimento stuffed olives, drained
½ cup pitted kalamata olives
1 tablespoon capers, rinsed
150g roasted red pepper from a jar
½ cup giaginiera pickles, drained
½ cup flat leaf parsley
1 tablespoon red wine vinegar
2 tablespoon Cobram Estate Classic EVOO
METHOD:
To make the olive salad, place the olives, capers, roasted red pepper, pickles, parsley, vinegar and oil in a food processor. Pulse until coarsely chopped, scraping down the sides of the bowl as you blitz. Transfer to a bowl and set aside.
Slice the cob in half horizontally through the center. Using clean hands, remove the soft inside to hollow out both sides of the cob, leaving about a 1.5cm shell.
Place the cobs on a work surface and spread the inside with the cream cheese. Evenly spread half the olive salad onto the both sides, pressing down with a spoon. Layer the salami, provolone, mortadella, ham, spinach and remaining olive salad inside the cob until it is full, pressing down gently in between each layer. Place the two cob halves together and cover tightly with cling wrap and place onto a plate. Cover with an unturned plate and place a heavy weight, like a can on top to weigh it down. Refrigerate for 6 hours, or overnight.
Unwrap from the plastic and cut into thick wedges to serve.
Our friends at Wine Selectors recommend pairing this dish with a Riesling or Gamay.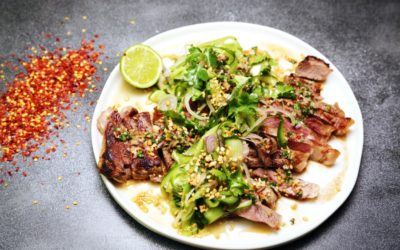 RECIPE BY: Courtney Roulston SERVING SIZE: 2 - 4 people INGREDIENTS: 2 x 230g Coles Finest Sirloin steaks 1 tablespoon Cobram Estate EVOO 2 Lebanese cucumbers, peeled into noodles 2 red shallots (French ), finely sliced ½ cup loosely packed coriander leaves ½ cup...