RECIPE BY:
Matt Sinclair
SERVING SIZE:
2 – 4 people
INGREDIENTS:
3 Tbsp Cobram Estate Classic Extra Virgin Olive Oil
1 brown onion, finely sliced
150gm Swiss brown mushrooms
Salt and pepper
4 spring fresh thyme
100gm baby spinach
60gm Zoosh French Onion Dip
1 Tbsp chopped parsley leaves
4 slices sourdough
1 Tbsp Lurpak unsalted butter
½ cup grated gruyere cheese
METHOD:
Preheat the grill on medium-high and line a baking tray with baking paper.
Heat 1 Tbsp of the oil in a pan over a medium heat. Add the onions and cook, stirring often until softened and golden brown, approximately 20 minutes. If the onions begin to stick and the pan is dry, add a small amount (1/2 Tbsp) of water to loosen them slightly. Once onions are well caramelised, transfer them to a bowl and set aside.
Return the pan to a medium heat and add the remaining oil. Add the mushrooms and season with a little salt and pepper. Add the thyme leaves and toss through to combine. Sauté until softened, approximately 5 minutes. Add in the spinach and half of the French onion dip, toss through to combine and remove from the heat. Stir in the parsley, season to taste and set aside to allow the spinach to wilt.
Lightly butter each side of the bread and place the slices on the baking tray. Place under the grill to toast slightly for about 1 minute on each side. Remove the bread onto a work bench to assemble the melts.
Spread the remaining French onion dip on one side of each slice. Top half of them with a layer of caramelised onion, followed by a layer of the mushroom and spinach mixture and finally top with cheese. Place the 2 slices with toppings under the grill for 1-2 minutes until the cheese has melted and begins to bubble. Remove from the oven and top with the remaining 2 slices of bread, slice in half diagonally and serve immediately.
Our friends at Wine Selectors recommend pairing this dish with a Pinot Noir or Sangiovese.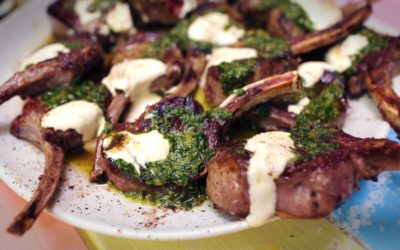 RECIPE BY: Michael Weldon SERVING SIZE: 2 - 4 people INGREDIENTS: 18 Lamb cutlets Sea Salt Cobram Estate light EVOO YOGHURT SAUCE: 200g Greek yoghurt 1tbs Paprika 1tbs cumin powder Sea Salt HERB SAUCE: 1 bunch of Parsley 1 bunch of Basil 2 anchovies 1 cup Cobram...