RECIPE BY:
Matt Sinclair
SERVING SIZE:
2 people

INGREDIENTS :
60ml Cobram Estate Classic Extra Virgin Olive Oil
4 tbs sobrassada
1 red capsicum, seeded and coarsely dice
2 golden shallots, peeled and thinly sliced
½ bulb fennel, thinly sliced
3 Roma tomatoes, peeled and diced
2 bay leaves
1 clove garlic, thinly sliced
2 tsp smoked paprika
Sea salt and freshly milled pepper
1kg fresh clean mussels
125ml fino / dry sherry
3 tbs chopped flat leaf parsley
METHOD :
Swirl olive oil into a preheated medium sized pot over a high heat. Stir in sobrassada, capsicum, shallot, fennel, tomatoes, bay, garlic and smoked paprika. Season and cook until the vegetables have softened. Add the mussels and stir well to combine. Add the sherry and put on a tight fitting lid. Cook for three to four minutes, giving a shake every minute to ensure they cook evenly. The mussels should, save for a few recalcitrant ones, all open. The next consideration is the sauce. If it's a pleasing consistency, serve immediately. If not, remove the mussels with a slotted spoon and continue to boil hard until it reduces to a nice sauce then pour over the mussels and scatter with parsley.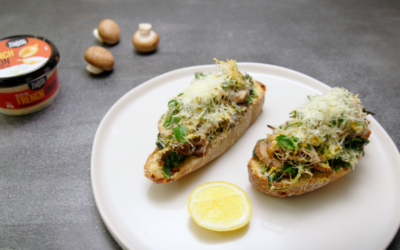 RECIPE BY: Matt Sinclair SERVING SIZE: 2 - 4 people INGREDIENTS: 3 Tbsp Cobram Estate Classic Extra Virgin Olive Oil 1 brown onion, finely sliced 150gm Swiss brown mushrooms Salt and pepper 4 spring fresh thyme 100gm baby spinach 60gm Zoosh French Onion Dip 1 Tbsp...