Nasi Ulam (Malaysian Herb Rice)

RECIPE BY:
Matt Sinclair
INGREDIENTS :
2 cups of cooked jasmine rice
a small handful of mint, betel, coriander, kaffir lime, Vietnamese mint leaves (all finely chopped)
2 red shallots( thinly sliced)
1/2 inch each of turmeric, lemongrass (white part only) and young galangal (finely chopped)
1/2 cup of dried baby shrimps (soaked and pounded to resemble fine breadcrumbs)
2 inches of salted dried fish (fried until crispy and crumbled)
1/2 cup of toasted desiccated coconut
Salt to taste
Pinch of white pepper
METHOD :
Mix all ingredients together once the rice is cool and serve with sambal belachan and a squeeze of lime juice. Easy!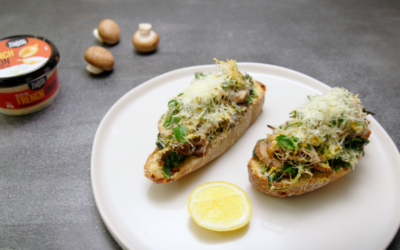 RECIPE BY: Matt Sinclair SERVING SIZE: 2 - 4 people INGREDIENTS: 3 Tbsp Cobram Estate Classic Extra Virgin Olive Oil 1 brown onion, finely sliced 150gm Swiss brown mushrooms Salt and pepper 4 spring fresh thyme 100gm baby spinach 60gm Zoosh French Onion Dip 1 Tbsp...