RECIPE BY:
Michael Weldon
SERVING SIZE:
4 people
INGREDIENTS:
1x packet Simsons Summer Herb Wraps
150g pack of Coles Beechwood Smoked Trout, cut into bit sized pieces
8 Coles extra large free range eggs
¼ cup Cobram Estate Olive Oil Classic
1 brown onion, finely sliced
50g Unsalted Ballantyne butter
1 bunch chives, finely sliced
1 bunch dill, finely sliced
½ cup sour cream
1 lemon
60g spinach
Salt
Cobram Estate Extra Virgin Olive Oil
METHOD:
In a small pot saute onion, oil and salt until the onion is caramelised, set aside.
In a cold pan add eggs and butter lightly whisk the egg together. Turn the heat on and with a rubber spatula, stir often, if it gets too hot remove to heat and continue stirring. Once cooked through and fluffy, add trout and onion (only half the oil in the onions) and stir through .
In a hot pan warm up wraps until slightly toasted on both sides.
Start assembling your wrap; smear the bottom with sour cream and sprinkle spinach on top and layer a portion of the trout mixture. Finish with a squeeze of lemon juice over the top.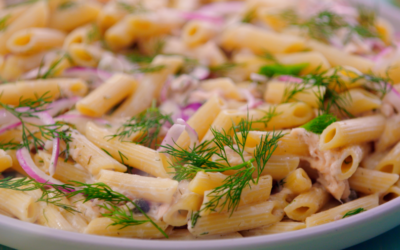 RECIPE BY: Michael Weldon SERVING SIZE: 2 - 4 people INGREDIENTS: 1 x Coles Penne Rigate 500g 1 x Coles Hot Smoked Salmon fillet 1 x ZoOSh Smoked Salmon dip ½ x Red onion, thinly sliced ½ jar Coles baby Capers ½ Dill bunch, roughly chopped (save a few sprigs for...