RECIPE BY:
Courtney Roulston
SERVING SIZE:
2 – 4 people
INGREDIENTS:
1 octopus, around 700g
1 carrot, roughly chopped
1 small brown onion, roughly chopped
2 bay leaves
1 clove garlic, skin on, lightly bruised
10 black peppercorns
¼ bunch flat leaf parsley
2 Tablespoons Cobram Estate classic EVOO
200g small tomatoes, on the truss
2 cloves garlic, sliced
1 long red chilli, roughly chopped
2 Tablespoons sherry vinegar
1 Tablespoon caster sugar
2 Tablespoons flat leaf parsley, chopped
METHOD:
Remove the beak and eyes from the octopus, wash under cold water and place it into a large pot with the carrot, onion, bay leaves, garlic, pepper and parsley. Cover with cold water, season with a good pinch of sea salt and place onto a medium heat. Bring up to a boil, then turn down to a gentle simmer, cover and cook for 1 ½ hours, or until the octopus is tender. Remove the octopus from the stock and allow to cool before slicing into portions.
Heat the oil in a non-stick frying pan over a medium heat. Cook the tomatoes for 3-4 minutes, or until just blistered. Remove the tomatoes form the pan and place back onto a medium heat. Add in the octopus, garlic and chilli and cook for 2-3 minutes to warm through the octopus. Pour in the vinegar, sugar, parsley and a pinch of sea salt and stir through until the sugar has dissolved. To serve place the octopus onto a serving plate. Arrange the tomatoes on top of the octopus and drizzle with the sweet and sour dressing. Serve warm.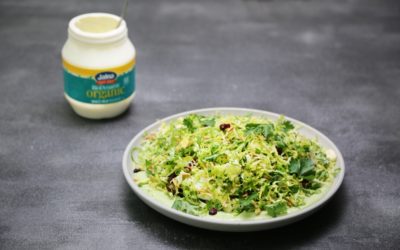 RECIPE BY: Courtney Roulston SERVING SIZE: 2 - 4 people INGREDIENTS: 600g Brussels sprouts 1 cup flat leaf parsley, roughly chopped 3 spring onions, finely sliced ½ cup slivered almonds, toasted ½ cup dried cranberries 1 tablespoons Cobram Estate EVOO Sea salt and...