RECIPE BY:
Matt Sinclair
MAKE:
1 loaf
INGREDIENTS :
¼ cup Cobram Estate Robust Extra Virgin Olive Oil, plus extra
300gm strong bread flour
2 tsp dry yeast (7gm)
1 tsp sea salt
2 tsp sugar
¾ cup water (180ml)
½ Tbsp. fresh rosemary, roughly chopped
3 sprigs thyme, leaves picked
5 chilli-marinated green olives, halved
2 tsp sugar
2 tsp chilli flakes
METHOD :
Sift flour into a large bowl, add the yeast, sugar and sea salt and mix to combine. Create a well in the centre of the flour and pour in olive oil and ½ of the water. Mix together with a wooden spoon to combine. Pour in remaining water and form into a dough. Turn out dough ball onto a lightly floured bench and knead for approximately 5-7 minutes until dough springs back when pressed. Form into a ball and place into a lightly oiled bowl and turn to coat. Cover bowl tightly with cling film and place in a warm place for 1 hour, until it has doubled in size.
Line a 20cmx30cm baking dish with greaseproof paper.
Using a fist, knock the air out of the middle of the dough. Turn out onto prepared baking tray and gently press out into the baking tray until 1 inch thick, stretching out to the corners. Press your fingertips into the dough to form dimples. Press in herbs and olives into the dough. Drizzle with 1 Tbsp. olive oil and sprinkle with a pinch of salt. Allow to sit in a warm place for a further 30 minutes to prove.
Heat oven to 200C (fan-forced) and place focaccia in to bake for 20-25 minutes until golden and crisp. Remove from oven and transfer to cooling rack. Serve with olive oil for dipping.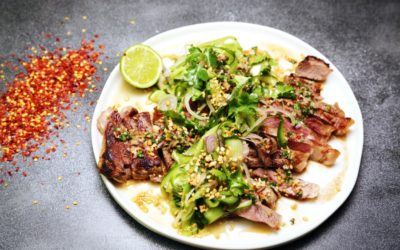 RECIPE BY: Courtney Roulston SERVING SIZE: 2 - 4 people INGREDIENTS: 2 x 230g Coles Finest Sirloin steaks 1 tablespoon Cobram Estate EVOO 2 Lebanese cucumbers, peeled into noodles 2 red shallots (French ), finely sliced ½ cup loosely packed coriander leaves ½ cup...