RECIPE BY:
Matt Sinclair
SERVING SIZE:
2 – 4 people
INGREDIENTS:
1 brown onion, thinly sliced
1 carrot, grated
1 medium potato, grated
50gm baby spinach, roughly chopped
2 tsp ground cumin
2 tsp ground coriander
2 tsp garam masala
1 tsp ground turmeric
Salt
200g chickpea (gram) flour
50g self-raising flour
150ml water
Cobram Estate Extra Virgin Olive Oil for frying
MINT YOGHURT
250ml Jalna Greek yoghurt
½ bunch mint leaves, picked, chopped
½ bunch coriander leaves, picked, chopped
Juice of ½ lime
Small pinch sugar
Salt
METHOD:
Heat oil in a deep fryer or large saucepan to 180C.
In a large bowl, add the potato, carrot, onions and combine with a pinch of salt. Next, add in cumin, coriander, garam masala, turmeric, another pinch of salt and mix through. Add in spinach and combine. Sprinkle in the flours and mix to coat the vegetables. Slowly add water, a little at a time, mixing after each addition until you get a thick battered coating over the vegetables.
Gently drop spoonfuls of batter into the fryer or pan, and fry in batches for 5-6 minutes or until golden brown and crisp. Transfer onto paper towel and season with salt. Repeat with remaining batter. Serve hot with mint yoghurt on the side.
MINT YOGHURT
Roughly chop mint and coriander. In a bowl, mix yoghurt, lime juice and chopped herbs. Season to taste with a pinch of sugar and salt.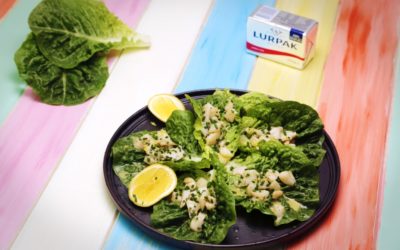 RECIPE BY:Courtney Roulston and Scott McRaeSERVING SIZE:2 - 4 people INGREDIENTS:12 fresh scallops in the half shell80g Lurpak butter, room temperature2 teaspoon lemon zest, finely grated1 large clove garlic, grated2 tablespoons fresh dill, finely chopped1 green...