RECIPE BY:
Matt Sinclair
SERVING SIZE:
2 – 4 people
INGREDIENTS:
1 large cob loaf, a day old is best
2 Tbsp Cobram Estate Light EVOO
1 clove garlic, sliced in half
1 jar roasted red peppers
1 red onion, thinly sliced
2 very ripe tomatoes, sliced
250gm mozzarella ball, sliced
150gm sliced ham off the bone
(ham can be substituted for other grilled
vegetables eg. Pumpkin/eggplant/zucchini)
SPINACH + OLIVE PISTOU
150gm baby spinach
100gm pitted green olives
½ bunch basil leaves
2 cloves garlic
Juice of ½ lemon
Cobram Estate Light Extra Virgin Olive Oil
Salt and Pepper
METHOD:
Cut the top off the cob loaf, large enough to make an opening to fit your hand. Scoop out the inside of the bread loaf. Leaving a 2cm thick crusty shell. **Crumble the bread filling in a food processor and freeze the bread crumbs for another use. Brush the inside of the loaf, and the inside of its lid with the olive oil. Rub the bread with he cut side of the garlic clove and set aside to infuse.
Prepare the pesto in a large food processor by adding the spinach, olives, basil, garlic and lemon juice and pulse to break up. While the motor is running, slowly pour in the olive oil to loosen the ingredients; the consistency should resemble a thick dressing. Stop the motor, scrape down the sides and season with salt and pepper. Adjust the taste if required with more lemon juice.
To assemble, place a thin layer of roasted capsicum to cover the base of the loaf. Top with a layer of red onion, followed by a good drizzle of the pistou. Spread around evenly and add a layer of sliced tomato over the top. Follow with a layer of mozzarella cheese and the sliced ham. Drizzle with more of the pistou and repeat the layers until the cob loaf is filled. Replace the lid, wrap the loaf tightly in baking paper-lined clingfilm and place a heavy object carefully on top of the loaf. Set aside to infuse for atleast an hour, ideally overnight. Slice and serve.
+ Pan Bagnet is pronounced pan ban-yay and is traditionally French, meaning 'bathed bread' – hence the olive oil/dressing in this recipe.
++ Great for a picnic / football / entertaining as it can be made a day ahead.
Our friends at Wine Selectors recommend pairing this dish with a Rose.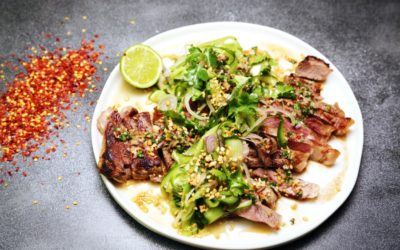 RECIPE BY: Courtney Roulston SERVING SIZE: 2 - 4 people INGREDIENTS: 2 x 230g Coles Finest Sirloin steaks 1 tablespoon Cobram Estate EVOO 2 Lebanese cucumbers, peeled into noodles 2 red shallots (French ), finely sliced ½ cup loosely packed coriander leaves ½ cup...