Perfect Steak with Chimichurri Sauce

RECIPE BY:
Michael Weldon
INGREDIENTS :
2 x Coles Graze Scotch Fillets
Sea Salt
Cobram Extra Virgin Olive Oil
Chimichurri Sauce
1 bunch Coriander, chopped
1 bunch Parsley, chopped
1 bunch Oregano, chopped
1 Jalapeno (Fresh), diced
1 Lemon, juice
1 Garlic Clove, diced
150mls Cobram Extra Virgin Olive Oil
METHOD :
To cook scotch fillets, leave them out of the fridge for 30 minutes to an hour and bring to room temperature. This allows it to cook evenly and quickly.
Season scotch fillets with salt first then drizzle with olive oil to avoid seasoning from falling off.
Once the coals are nice and hot, place scotch fillets on your barbecue grill and cook for 2-3 minutes on each side, flipping once only.  Remove fillets from grill and allow to rest for 5 minutes. Fillets should be medium rare.
To make the Chimichurri sauce, combine chopped or grated garlic, finely diced Jalapenos with or without seeds, oregano, parsley, lemon juice and a generous amount of olive oil.  Season with salt and pepper and mix well.
Slice the scotch fillet, cutting through the grain of the meat, and place on a serving plate.
Drizzle the Chimichurri sauce over the top. Enjoy!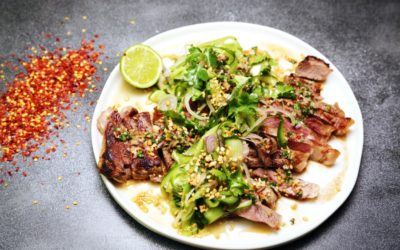 RECIPE BY: Courtney Roulston SERVING SIZE: 2 - 4 people INGREDIENTS: 2 x 230g Coles Finest Sirloin steaks 1 tablespoon Cobram Estate EVOO 2 Lebanese cucumbers, peeled into noodles 2 red shallots (French ), finely sliced ½ cup loosely packed coriander leaves ½ cup...