Peri Peri Chicken Sliders

RECIPE BY:
Michael Weldone
SERVING SIZE:
4 people
INGREDIENTS :
500g Coles RSPCA Approved Chicken Breast Mince
ZoOSh Free Range Egg Peri Mayonnaise
4 Pack Coles Brioche Burger Buns, toasted
1 small Red Onion, diced
1 bunch of Coriander, leaves picked and stems chopped finely
1tbsp Mango Chutney
1tsp Chilli flakes
1 lemon, zest
½ cup Sesame seeds
Iceberg lettuce shredded
Pickled Jalapenos
METHOD :
In a bowl, combine chicken mince with diced onion, salt, mango chutney, lemon zest and chilli flakes.
To form the patties, take a ball of mixture into your hands and flatten them so they are 1cm thick. Cover each patty with sesame seeds on both sides.  Season with salt.
On medium heat, add olive oil to pan. Place patties seasoned side down and allow it to slowly cook. Flip after 2-3 minutes or until there's a golden crust.
Cut brioche buns in half and toast on a hot grill pan, starting with the inner sides first. Flip after 30 seconds and toast outer sides for another 30 seconds.
To build your burgers, start from the bottom – add peri mayonnaise, shredded lettuce, chicken patties, coriander, pickled jalapenos and another squeeze of peri mayonnaise. Top with burger bun.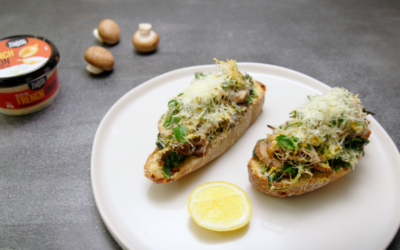 RECIPE BY: Matt Sinclair SERVING SIZE: 2 - 4 people INGREDIENTS: 3 Tbsp Cobram Estate Classic Extra Virgin Olive Oil 1 brown onion, finely sliced 150gm Swiss brown mushrooms Salt and pepper 4 spring fresh thyme 100gm baby spinach 60gm Zoosh French Onion Dip 1 Tbsp...