RECIPE BY:
Matt Sinclair
SERVING SIZE:
4 people
INGREDIENTS:
½ white cabbage, finely shredded
1 fennel bulb, fronds reserved, finely sliced
2 Granny Smith apples, cored, finely sliced
100gm raisins
1/3 cup picked dill fronds, roughly chopped
¼ cup picked parsley leaves, roughly chopped
¼ cup mint leaves, torn
Salt and Pepper
DRESSING:
¼ cup Zoosh Free Range Egg Mayonnaise
3 Tbsp. Greek yoghurt
1 Tbsp. Hot English Mustard
2 tsp. ground coriander
1 tsp. ground cinnamon
METHOD:
Place all salad ingredients in a large bowl, including picked fennel fronds.
Place all dressing ingredients in a small bowl and mix to combine. Taste and adjust seasoning if required.
Add the desired amount of dressing to the salad and mix well to evenly coat all ingredients. Season with salt and pepper and serve.
*** Salad and dressing can both be done ahead of time but kept separately and dressed and seasoned just before serving.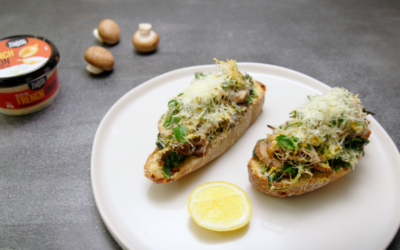 RECIPE BY: Matt Sinclair SERVING SIZE: 2 - 4 people INGREDIENTS: 3 Tbsp Cobram Estate Classic Extra Virgin Olive Oil 1 brown onion, finely sliced 150gm Swiss brown mushrooms Salt and pepper 4 spring fresh thyme 100gm baby spinach 60gm Zoosh French Onion Dip 1 Tbsp...