RECIPE BY:
Matt Sinclair
INGREDIENTS :
1 small Coles chicken
4 eggs
1 tablespoon fresh rosemary, finely chopped
2 tablespoons fresh sage, finely chopped
1 teaspoon dried tarragon
½ teaspoon 5 spice powder
2 teaspoons flakey salt
1 cup plain flour (can use gf flour)
2 cups Cobram Estate Extra Virgin Olive Oil
METHOD :
If the chicken is whole, using a knife or cleaver to cut through the thigh joints then cut the legs from the thighs. Cut through the wing joints at the breast then remove the wing tips; you may also cut through the middle joint of the wing. With the breast side down, and using kitchen scissors, cut lengthways next to the backbone. Cut at the sides to detach the backs and cut these into two. Cut lengthways through the center of the breastbone then cut each breast piece into three.
Beat the eggs in a bowl and add the herbs, spices and salt. Heat the oil to medium in a heavy based frying pan. Coat ½ of the chicken pieces with the flour, dip into the egg mixture and then place into the pan, being careful not to overload the pan. Cook for 8 minutes or until golden brown on one side then turn to cook a further 6 minutes. This time may vary according to the size of the chicken pieces.  Repeat with the remaining chicken.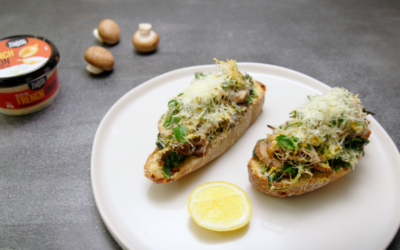 RECIPE BY: Matt Sinclair SERVING SIZE: 2 - 4 people INGREDIENTS: 3 Tbsp Cobram Estate Classic Extra Virgin Olive Oil 1 brown onion, finely sliced 150gm Swiss brown mushrooms Salt and pepper 4 spring fresh thyme 100gm baby spinach 60gm Zoosh French Onion Dip 1 Tbsp...