Pork & Shiitake Dumplings with Black Vinegar

RECIPE BY:
Matt Sinclair
SERVING SIZE:
2 – 4 people
DRESSING
1/4 cup Lee Kum Kee soy sauce
1 Tbsp. Lee Kum Kee Chilli Garlic oil
1/4 cup Chinkiang vinegar ( black vinegar )
1 tsp. caster sugar
1 Tbsp. ginger, finely grated
1 tsp. garlic, finely chopped
1 tbsp. Shaoxing rice wine
GARNISH
Spring onion, sliced
Sesame seeds
INGREDIENTS:
300g Coles pork mince
150g Shiitake mushrooms, finely sliced
1 Tbsp. Lee Kum Kee sesame oil
1/4 cup Vegetable oil
1 garlic clove, finely grated
1 Tbsp. ginger, finely grated
1/3 cup spring onion, finely sliced
1/2 Tbsp. ground white pepper
2 Tbsp. light soy sauce
1 Tbsp. Shaoxing rice wine
1 packet wonton wrappers
1/2 cup water
METHOD:
Heat oil in a frypan on high heat until smoking. Add mushrooms and fry until evenly caramelised, for approximately 3-4 minutes. Remove from pan and allow to cool completely.
Combine pork mince, garlic, ginger, spring onions, white pepper, soy sauce, Shaoxing + sesame oil in a bowl, and mix together thoroughly with your hands. Add mushrooms, gently combine.
Lay out 6 wonton wrappers at a time. Place 1 heaped teaspoon of pork mixture on each wrapper. Brush edges of wonton wrapper with water and fold into triangles. Pinch edges to seal, bring the 2 points of the triangle base together ( like tortellini ). Set folded wontons aside.
Bring a large pot of salted water to the boil. Meanwhile, make dressing.
Combine soy sauce, black vinegar, sugar, chilli garlic oil, Shaoxing rice wine, ginger + garlic in a bowl and whisk together. Season to taste and adjust if necessary with sugar / soy / vinegar.
Lower wontons into boiling water in batches of 8-10 and cook until they float, approximately 3 minutes. Test one to see if the centre is cooked through.
Serve dumpling with a teaspoon of dressing and a sprinkle of peanuts and finely sliced spring onions.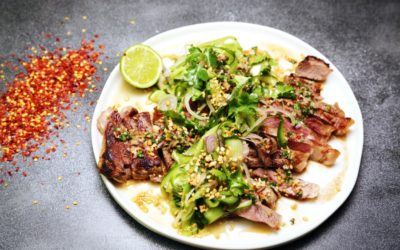 RECIPE BY: Courtney Roulston SERVING SIZE: 2 - 4 people INGREDIENTS: 2 x 230g Coles Finest Sirloin steaks 1 tablespoon Cobram Estate EVOO 2 Lebanese cucumbers, peeled into noodles 2 red shallots (French ), finely sliced ½ cup loosely packed coriander leaves ½ cup...