RECIPE BY:
Michael Weldon
SERVING SIZE:
2 – 4 people
INGREDIENTS:
1 packet Coles Posh Dogs (6 in a packet)
6 Hot Dog Buns
1 ZoOsh Gherkin Dip
4 Bacon Rashes
4 Pickles
1 Brown Onion diced
Coles American Mustard
METHOD:
Heat the pan with no oil and add chopped bacon rashes. In a large pot boil the water and add the sausages, leave for ten minutes to cook through.
Thinly slice pickles on an angle. Cut hot dog bun through the top, don't cut all the way through.
Once sausages are cooked remove from the boiling water. When bacon bits are crispy remove and place on a cloth or paper towel to soak up the extra fat from the bacon.
Get a spoonful of ZoOsh gherkin dip and spread throughout the bun. Add the cooked sausage while still warm, layer pickles down the side and sprinkle with raw diced onion. Put crispy bacon bits on top, then a squiggle of mustard and enjoy!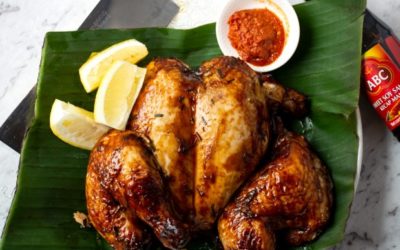 SERVING SIZE:2 - 4 people INGREDIENTS:1.5kg whole chickenMARINADE:1/2 cup ABC Sweet Soy Sauce (kecap manis)1/3 cup TCC Premium Coconut Milk6 kaffir lime leaves (thinly sliced)1 tsp cinnamon powder / 1 cinnamon stick (crushed)1 green chilli (finely sliced)1 tbsp ginger...