RECIPE BY:
Matt Sinclair
INGREDIENTS:
1 kg Coles Creme Gold Washed Potatoes with skin left on.
2 tablespoons grated Parmesan cheese
2 medium eggs + 1 yolk
1 tablespoons Cobram Estate Classic Extra Virgin Olive Oil
1 heaped tablespoon flaky salt, crushed, or 1 teaspoon of table salt
300 grams plain flour
Potato ricer – available from kitchen hardware stores 1 cup of semolina, for rolling the gnocchi
METHOD:
Place the potatoes in a pan and add 2 cups of water. With the lid on, bring the pan to the boil and immediately turn to simmer. Cook the potatoes until a sharp knife is easily inserted into the potato. Drain the potatoes then peel them while they are still warm. Pass the potatoes through a potato ricer into a large bowl (the potato ricer incorporates air into the mixture and makes them nice and light). Gently fold in the parmesan.
In a small bowl, mix the eggs, oil and salt together for a minute with a fork. Pour the egg into the potatoes and mix gently. Fold the flour into the potatoes with a metal spoon then by hand. Fold the mixture with an upward motion, not pressing down. (Rough handling will push the air out and make the gnocchi tough). As soon as the flour is totally incorporated and the mixture comes to a ball, stop handling.
On a bench, lightly floured with semolina, pick up about 1 cup of the gnocchi dough and shape it into a small log. Place onto the bench and firmly roll by hand to the shape of a thin sausage. With a sharp, flat-bladed knife cut pieces off, the size of a small stone – approximately 1+1/2 cm, flicking through the semolina as you cut. Shape the gnocchi with a fork or gnocchi paddle and place onto a tray sprinkled with semolina. Continue rolling gnocchi until the tray is full and the dough is finished. The gnocchi can be frozen at this stage. Place the frozen gnocchi into a freezer bag and seal. These can be kept frozen for 2 months.
Heat a stockpot of lightly salted water to boiling and add about 2 cups of the gnocchi. They will sink to the bottom of the pan. When they rise to the surface, cook for a further 1⁄2 minute then with a slotted spoon (or spider) remove the gnocchi and place in a serving bowl.
Serve the gnocchi with your favorite pasta sauce and shaved parmesan cheese.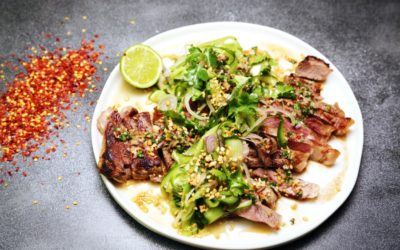 RECIPE BY: Courtney Roulston SERVING SIZE: 2 - 4 people INGREDIENTS: 2 x 230g Coles Finest Sirloin steaks 1 tablespoon Cobram Estate EVOO 2 Lebanese cucumbers, peeled into noodles 2 red shallots (French ), finely sliced ½ cup loosely packed coriander leaves ½ cup...