RECIPE BY:
Matt Sinclair
SERVING SIZE:
2 – 4 people
INGREDIENTS:
400gm Coles large pasta shells
205g of prawns
150ml Cobram Estate Classic Extra Virgin Olive Oil
4 cloves garlic, finely chopped
1-2* red chillies, finely sliced *to taste
100g cherry tomatoes, halved
100g grated cheese
150ml dry white wine
Salt and Pepper
½ cup roughly chopped Italian parsley
METHOD:
Bring a pot of salted water to a boil. Cook the large pasta shells as per packet instructions to al dente. Drain and drizzle with a little olive oil.
After adding the pasta, heat ¾ of the the olive oil in a heavy-based lidded fry pan over a medium–high heat. When the oil has a slight shimmer, turn the heat to high and add the garlic and chilli, stirring for 1 minute. Add in the cherry tomatoes and season with salt and pepper, stirring constantly for 2 minutes or until garlic is lightly coloured. Pour in the prawns and toss to combine. As the prawns begin to cook pour over the white wine and gently toss through. Place the lid on and cook for 3-4 minutes, tossing regularly. Remove from heat and season with salt to taste. Add in the drained shells, cheese, parsley and remaining oil and mix through to combine.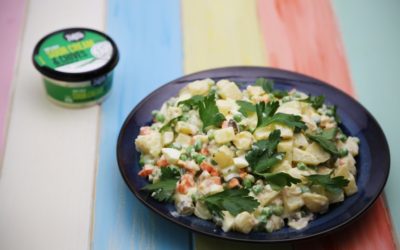 RECIPE BY: Matt Sinclair SERVING SIZE: 2 - 4 people INGREDIENTS: 1 Tub ZoOSh Sour Cream Dip 8 medium potatoes (washed, skins on), cooked and diced 3 large eggs, hard boiled 3 cup green peas (fresh or frozen) 3 medium carrots (peeled, trimmed, and diced into 1/4-inch...