Prawn Rice Paper Rolls with Hoisin Sauce

RECIPE BY:
Michael Weldon
INGREDIENTS :
4 tbsp Lee Kum Kee Hoisin Sauce
½ tsp Lee Kum Kee Pure Sesame Oil
½ tsp Fish Sauce
Juice of 1 lime
20 cooked prawn tails
1 cucumber, deseeded and sliced into small matchsticks
150g snow peas, thinly sliced
1 red onion, thinly sliced
1 red chilli, deseeded and sliced into small matchsticks
1 bunch of coriander
1 bunch of Vietnamese mint
100g peanuts
1 pack of Vermicelli noodles, cooked as per instructions and cut into large chunks
1 pack of rice paper rolls
METHOD :
In a bowl combine, onion, cucumber, snow peas, chilli, fish sauce, sesame oil and 1 tsp lime juice. In a shallow bowl, fill with warm water to briefly soak your rice paper rolls and place on a clean surface.
You can start building you rolls. On the bottom place 2 prawns, add vegetable mix, herbs and noodles before rolling into a neat package.
In a small serving dish, combine remaining lime juice and hoisin sauce and sprinkle with crushed peanuts over the top.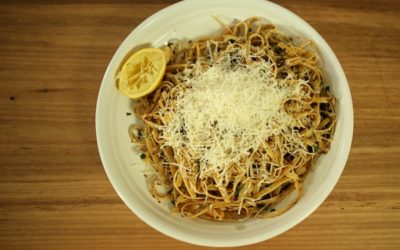 RECIPE BY: Matt Sinclair SERVING SIZE: 2 - 4 people INGREDIENTS : 300gm raw banana prawns, cleaned, chopped into 2cm pieces 130gm raw chorizo, peeled 200gm fettuccine 1 Tbsp. Cobram Extra Virgin Olive Oil 3 cloves garlic, finely sliced ¼ cup toasted pine nuts 1/3 cup...