RECIPE BY:
Courtney Roulston
MAKES:
8
INGREDIENTS :
250ml oil for frying
2 x Simson's Pantry Gluten Free Black Rice Wraps, sliced into quarters
16 green/raw king prawns, peeled, cleaned
1 long red chilli, seeded, finely sliced
½ cup mint, leaves finely sliced
1 kaffir lime leaves, finely shredded
½ cup coriander, leaves picked
2 tablespoons peanuts, crushed
2 Tb ZoOSh Free Range Egg Mayonnaise
NAM JIM :
1 French/golden shallot, peeled, chopped
1 red birds eye chilli
1 clove garlic
2 tsp coriander stem/root
2 tsp Lee Kum Kee Pure Sesame Oil
100ml fresh lime juice
75gm brown sugar
50ml fish sauce
METHOD :
To make the nam jim dressing, pound the shallots, chilli, garlic, and coriander root using a mortar and pestle. Add in the sesame oil, lime juice, sugar and fish sauce and check for balance of sweet, sour, salty and hot.
Heat oil to 160 degrees in a saucepan. Shallow fry the tortilla pieces in batches for 1-2 minutes turning once until golden. Drain on kitchen paper and allow to cool.
Slice the prawns in half horizontally. Heat 1 tablespoon of oil in a frying pan over a medium heat. Cook the prawns for 1 minute, or until just cooked through.
Combine the chilli, mint, kaffir lime, and coriander leaves in a large bowl. Dress with a little of the nam jim and toss through the prawns. Place a small dollop of mayonnaise onto the base of the tortillas. Add a small mound of the prawn salad on top and sprinkle with the peanuts. Serve immediately.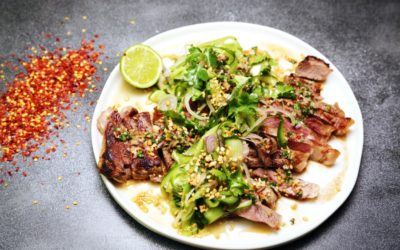 RECIPE BY: Courtney Roulston SERVING SIZE: 2 - 4 people INGREDIENTS: 2 x 230g Coles Finest Sirloin steaks 1 tablespoon Cobram Estate EVOO 2 Lebanese cucumbers, peeled into noodles 2 red shallots (French ), finely sliced ½ cup loosely packed coriander leaves ½ cup...