RECIPE BY:
Michael Weldon
SERVING SIZE:
2 – 4 people
INGREDIENTS:
1 kg Coles Chuck Steak
1 pkt Coles Brioche Rolls
Burger Slices
500ml Massel Liquid Beef Stock
1 Brown Onion, roughly chopped
2 Garlic Cloves, quatred
100ml Tomato Sauce
1tbs Fennel Seeds
1tbs Chilli Flakes
1tbs Smoked Paprika
½ cup Brown Sugar
½ cup Pineapple Juice
1 Iceberg Lettuce
Pinch of sea salt
METHOD:
Preheat a fan-forced oven to 160 degrees.
In a pot over a stove, stir together beef stock, tomato sauce, garlic, onion, paprika, fennel seeds, chilli flakes, pineapple juice and brown sugar. Bring to a gentle boil.
Slice up steak into chunks and put into an oven-proof baking dish. Season beef with seasalt.
Once stock mixture has come to a boil, take off the heat and pour over beef. Cover oven tray with aluminum foil and put into oven. Allow to cook for 1 and a half hours. Remove aluminum foil and put back in the oven for another half an hour.
Take beef out of the oven and transfer to a large pan over a stove. Stir as liquid reduces. Once it has reduced, take off heat.
Finely slice up lettuce and toast brioche buns.
To construct burgers, fill buns with lettuce, beef and top with cheese.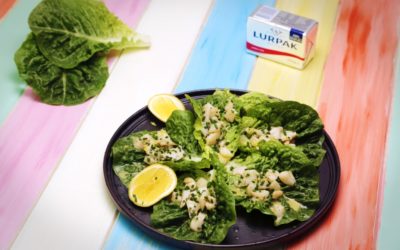 RECIPE BY:Courtney Roulston and Scott McRaeSERVING SIZE:2 - 4 people INGREDIENTS:12 fresh scallops in the half shell80g Lurpak butter, room temperature2 teaspoon lemon zest, finely grated1 large clove garlic, grated2 tablespoons fresh dill, finely chopped1 green...