RECIPE BY:
Matt Sinclair
SERVING SIZE:
6 people
INGREDIENTS:
700gm butternut pumpkin, peeled
3 cloves garlic
2 Tbsp. Cobram Estate Robust Extra Virgin Olive Oil
2 sprigs rosemary, stems removed, finely chopped
2 Tbsp salt
1 Tbsp freshly ground black pepper
500gm ricotta, strained
½ cup parmesan, finely grated, plus extra for garnish
1 egg
1 tsp. ground nutmeg
Zest of 1 lemon
2 cups plain flour
BURNT BUTTER SAUCE:
100gm butter
20 sage leaves, stems removed
1/3 cup pine nuts, toasted
Juice of 1 lemon
METHOD:
Preheat oven to 180C.
Cut pumpkin into 1 inch cubes and place into a mixing bowl along with the unpeeled garlic cloves, olive oil, rosemary and half the amount of salt and pepper, toss to combine. Transfer to a lined baking tray and roast in the oven for 30 minutes or until garlic and pumpkin are tender. Remove to cool slightly. Squeeze garlic out of the skin and transfer back to the mixing bowl along with the pumpkin and mash until smooth. Allow to cool completely.
Once pumpkin has cooled add the ricotta, parmesan, egg, nutmeg and remaining salt and pepper and pulse in a food processor. Place in a mixing bowl and sift the flour in ½ a cup at a time, mixing well after each addition. Mixture should resemble a sticky dough.
Flour the bench generously and spoon out 1 cup of mixture at a time. With floured hands roll dough into a snake-like shape, about ½ an inch thick. Using a sharp knife, cut into 1 inch pieces and lay out onto a lined baking tray. Repeat with remaining mixture. Cover with cling film and refrigerate until required.
Bring a pot of salted water to a boil. Add the dumplings in batches and remove using a slotted spoon onto paper towel. Gnudi will be ready when they rise to the top of the water.
Meanwhile, place a frypan over medium-high heat and add the butter. Once butter has melted, add the sage leaves and gently toss to coat. Cook down until sage is crisp and butter turns a light golden colour. Remove from heat, add pine nuts and a squeeze of lemon juice. Taste and adjust with more lemon juice if required.
Place gnudi into pan w burnt butter and coat. Serve with pine nuts and grated parmesan.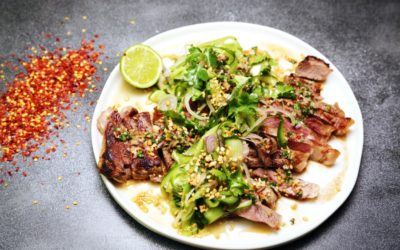 RECIPE BY: Courtney Roulston SERVING SIZE: 2 - 4 people INGREDIENTS: 2 x 230g Coles Finest Sirloin steaks 1 tablespoon Cobram Estate EVOO 2 Lebanese cucumbers, peeled into noodles 2 red shallots (French ), finely sliced ½ cup loosely packed coriander leaves ½ cup...