Roast Mushroom Cous Cous Salad
RECIPE BY:
Courtney Roulston
SERVING SIZE:
4 people
Perfect to go with BBQ steak or chicken, but hearty enough to be served as a vegetarian dinner as it is. Leftovers are great for a packed work lunch…
INGREDIENTS:
8 large whole Portobello mushrooms
2 x 100g packets Ainsley Harriott's Wild Mushroom Cous Cous
300mls boiling water
100g Coles Danish Feta
30g Ballantyne Rolled Salted Butter
1 tablespoon fresh thyme
200g green beans, trimmed
juice and zest of 1 lemon
2 teaspoons honey
2 tablespoon olive oil
1 bunch flat leaf parsley, chopped
1/3 cup roasted almonds, chopped
Cracked black pepper to serve
METHOD:
Preheat oven to 200 degrees.
Remove the stalks from the mushrooms and place them onto a lined oven tray with the stem side facing upwards.
Divide the butter into the caps of the mushrooms, season with a pinch of sea salt and sprinkle with thyme. Roast in the oven for 20 minutes, or until the mushrooms are cooked through.
Meanwhile place the cous cous into a large bowl and cover with 300ml boiling water. Cover and leave to steam for 5 minutes.
Heat 1 tablespoon of the oil in a frying pan and cook the beans with a pinch of sea salt for 3-4 minutes, or until tender.
Whisk the lemon juice, lemon zest, honey and remaining oil together.
Pour the lemon dressing over the cous cous and toss through the cooked beans and parsley.
Place the cous cous salad onto the base of a serving platter and top with the roast mushrooms. Garnish with crumbled feta, and almonds. Enjoy!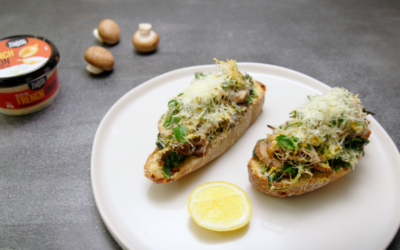 RECIPE BY: Matt Sinclair SERVING SIZE: 2 - 4 people INGREDIENTS: 3 Tbsp Cobram Estate Classic Extra Virgin Olive Oil 1 brown onion, finely sliced 150gm Swiss brown mushrooms Salt and pepper 4 spring fresh thyme 100gm baby spinach 60gm Zoosh French Onion Dip 1 Tbsp...