RECIPE BY:
Matt Sinclair
INGREDIENTS :
½ pineapple (peeled and cut into chunks)
1 green mango (peeled and cubed)
1 small jicama (peeled and cubed)
1 small cucumber (cut into bite size pieces)
¼ cup peanuts (toasted and chopped)
1 tbsp sesame seeds (toasted)
Rojak Sauce
1 tbsp ketcup manis
1 tbsp hei ko (sweet black shrimp paste), optional
1 tbsp sugar
½ tsp KEEN's chilli powder
¼ cup water
METHOD :
Combine all rojak sauce ingredients in a small bowl. Mix thoroughly with a spoon.
Place sliced pineapple, mango, jicama, and cucumber in a large bowl.
Pour sauce over fruits and vegetables. Mix well.
Sprinkle some chopped peanuts and sesame seeds over each portion.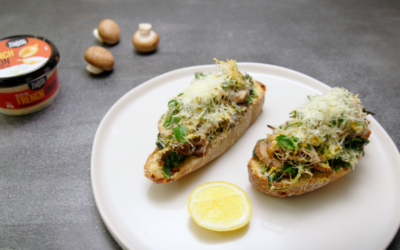 RECIPE BY: Matt Sinclair SERVING SIZE: 2 - 4 people INGREDIENTS: 3 Tbsp Cobram Estate Classic Extra Virgin Olive Oil 1 brown onion, finely sliced 150gm Swiss brown mushrooms Salt and pepper 4 spring fresh thyme 100gm baby spinach 60gm Zoosh French Onion Dip 1 Tbsp...