Rosemary and Parmesan Polenta Biscuits

RECIPE BY:
Matt Sinclair
MAKES:
18
INGREDIENTS :
150ml Cobram Estate Classic Extra Virgin Olive Oil
1 ½ cups plain flour, sifted
½ cup instant fine polenta
60gm parmesan cheese, finely grated
2 Tbsp. fresh rosemary, picked, finely chopped
1 Tbsp. fresh thyme, picked
1 Tbsp Salt and Pepper
¼ cup water
METHOD :
In a food processor add the flour, polenta, parmesan, herbs and a pinch of salt and freshly cracked black pepper and blitz to combine.
Reduce the speed to low and slowly drizzle in the olive oil. Stop the food processor and scrape down the sides. Return the processor to a low speed and add the water, little by little until a dough starts to form. **Not necessary to use all water.
Turn out the dough onto a floured surface and knead to bring the dough together, approximately 3-4 minutes. Split the dough into two and roll out into 1-inch logs. Wrap each log in baking paper and place in the fridge to set for 1 hour, or until firm.
Preheat oven to 160C and line two baking trays with greaseproof paper.
Remove logs from refrigerator and unwrap onto a chopping board. Cut into 1.5cm thick rounds and place onto the lined baking tray, leaving space between each. Gently press down on each piece to spread into a flat round, the size of a 50c coin. Place in the oven and bake for 25-30 minutes or until lightly golden.
Transfer to a wire rack to cool and allow biscuits to firm.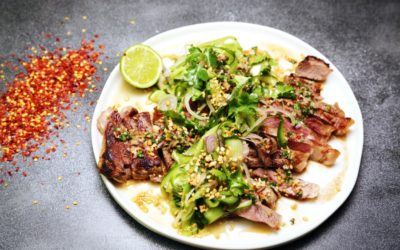 RECIPE BY: Courtney Roulston SERVING SIZE: 2 - 4 people INGREDIENTS: 2 x 230g Coles Finest Sirloin steaks 1 tablespoon Cobram Estate EVOO 2 Lebanese cucumbers, peeled into noodles 2 red shallots (French ), finely sliced ½ cup loosely packed coriander leaves ½ cup...