Rotisserie Pork with Fennel and Apple Salad

RECIPE BY:
Michael Wheldon
INGREDIENTS:
1 Packet of Littler Lucifer Read-ToUse Smoking Wood Chips Savoury Herb Flavour
2 kg Coles Pork Leg Roast
½ cup salt
1 tbsp Cobram Estate Light Extra Virgin Olive Oil
½ bunch sage
100g Ballantyne Rolled Cultured Style Unsalted Butter unsalted butter, melted
½ juice of a lemon
Salad
1 bulb fennel, finely sliced
1 tbsp mustard
1 apple, finely sliced
Pinch of Salt
2 tbsp Cobram Estate Light Extra Virgin Olive Oil
Juice of 1 lemon
METHOD:
Leave your pork loin in the fridge uncovered overnight to dry out and ensure your crackling is crispy. Pierce the pork on the rotisserie skewer, making sure the weight is evenly distributed and secure.Coat your pork evenly in oil and salt, don't be afraid to use lots of salt!
Pierce the foil of the Little Lucifer Smoking Wood Chips and place on top of your coals. Insert the Skewer into your rotisserie and begin rotating. Cook for approx. 1.5- 2 hours or until golden and crispy.
In a bowl toss fennel and apple with lemon, oil, salt and mustard.
In a small pan melt butter until it's no longer foamy and smells nutty. Then add sage and half the juice of a lemon and stir through.
Drizzle butter mixture over the Pork upon serving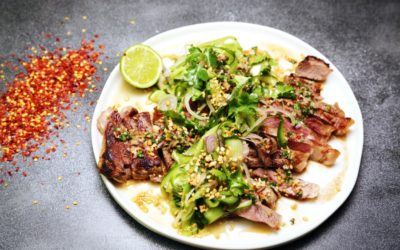 RECIPE BY: Courtney Roulston SERVING SIZE: 2 - 4 people INGREDIENTS: 2 x 230g Coles Finest Sirloin steaks 1 tablespoon Cobram Estate EVOO 2 Lebanese cucumbers, peeled into noodles 2 red shallots (French ), finely sliced ½ cup loosely packed coriander leaves ½ cup...