RECIPE BY:
Matt Sinclair
SERVING SIZE:
2 – 4 people
INGREDIENTS:
415gm John West Wild Alaskan pink salmon, drained well
1 Five Tastes Thai Red Curry Paste Shot
1 cup panko bread crumbs
1 egg
1/2 tbsp fish sauce
1/3 cup Cobram Estate Extra Virgin Olive Oil for frying
Salt
GINGER CORIANDER DIPPER
1 tbsp white vinegar
1 tbsp water
1 tbsp sugar
1 bunch coriander
1 kaffir lime leaf, chiffonade
2 cloves garlic, sliced
1 inch piece ginger, peeled and sliced
1 shallot, sliced
1 green chilli, sliced
1 lime
METHOD:
To make the fishcake mixture, place the salmon, curry paste, fish sauce, egg and panko bread crumbs into a food processor. Blitz until well combined but still maintaining some texture.
Heat oil in a deep fry pan over a medium heat. Using lightly wet hands, shape the salmon mixture into 12 patties and carefully transfer into the pan. Fry the fish cakes in batches for 3-4 minutes on each side, or until golden brown. Transfer to paper towel and season with salt.
To make the dipping sauce, add the water, vinegar and sugar to a small pot and put over medium heat. Slice up coriander stems and add to the pot, along with shallots, green chilli, ginger, garlic and lime leaves. Bring to the boil and then take off heat. Roughly chop coriander leaves and add to the pot with a squeeze of lime juice, to taste.
Serve hot fish cakes with dipping sauce on side.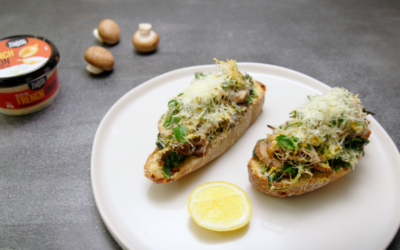 RECIPE BY: Matt Sinclair SERVING SIZE: 2 - 4 people INGREDIENTS: 3 Tbsp Cobram Estate Classic Extra Virgin Olive Oil 1 brown onion, finely sliced 150gm Swiss brown mushrooms Salt and pepper 4 spring fresh thyme 100gm baby spinach 60gm Zoosh French Onion Dip 1 Tbsp...