Salted Coconut Panna Cotta

RECIPE BY:
Matt Sinclair
INGREDIENTS:
20g gelatin sheets
1L coconut cream
230g caster sugar
2 pinches of Pyramid salt
METHOD:
In a bowl, pour water over gelatin sheets to soften.
Meanwhile, in a large saucepan, pour coconut cream, caster sugar, salt and give it a good whisk. Squeeze excess water out of gelatin, then add to mixture and whisk again.
To rid mixture of any solids, strain mixture through a strainer and into a jug.
Pour mixture into moulds or straight into your serving bowl. Tap the bowl or mould on the bench to get rid of any bubbles. Refrigerate for 24 hours.
Using a skewer, a thermometre spike or similar, release panna cotta from mould and into a bowl.
Serve with honeycomb, passion fruit pulp and thai basil.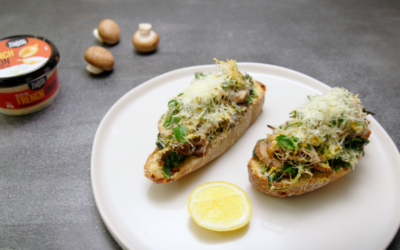 RECIPE BY: Matt Sinclair SERVING SIZE: 2 - 4 people INGREDIENTS: 3 Tbsp Cobram Estate Classic Extra Virgin Olive Oil 1 brown onion, finely sliced 150gm Swiss brown mushrooms Salt and pepper 4 spring fresh thyme 100gm baby spinach 60gm Zoosh French Onion Dip 1 Tbsp...