Seared Tuna Nicoise With Sauce Vierge

RECIPE BY:
Courtney Roulston
SERVING SIZE:
6 people
SAUCE VIERGE:
90ml Cobram Estate Classic Extra Virgin Olive Oil
2 garlic clove, finely chopped
2 small anchovy filets (optional)
2 vine-ripened tomatoes, seeds removed, diced
1 Tablespoon lemon juice, plus extra to serve
2 tablespoons basil leaves, sliced
1 tablespoon flat leaf parsley, chopped
3 x 200g thick yellowfin tuna steaks
150g green beans, blanched and sliced lengthways
30 small ligurian olives, crushed
½ bunch chives, finely sliced to garnish
¼ bunch chervil to garnish
1 butter lettuce, washed to serve
Crusty French baguette to serve
METHOD:
For the sauce vierge, place the oil, garlic and anchovy into a saucepan over a low heat and cook until the anchovy melts into the oil. Remove from the heat, add in the chopped tomatoes and set aside for the flavours to infuse. Once slightly cool, add in the lemon juice, basil and parsley.
Meanwhile heat a non-stick frying pan over a medium/high heat. Season the tuna with sea salt, cracked black pepper and coat with olive oil. Cook the tuna for 30 seconds each side, or until seared on the outside, but still blush in the center.
Allow the tuna to rest before slicing into ½ cm thick strips.
Place the sliced tuna onto a large serving platter. Scatter over the green beans, olives and dress with the sauce vierge. Garnish with the chives and chervil. Serve warm with crusty French bread, butter lettuce and a chilled glass of Riesling.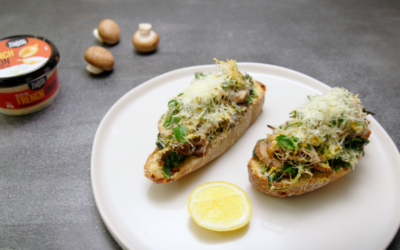 RECIPE BY: Matt Sinclair SERVING SIZE: 2 - 4 people INGREDIENTS: 3 Tbsp Cobram Estate Classic Extra Virgin Olive Oil 1 brown onion, finely sliced 150gm Swiss brown mushrooms Salt and pepper 4 spring fresh thyme 100gm baby spinach 60gm Zoosh French Onion Dip 1 Tbsp...